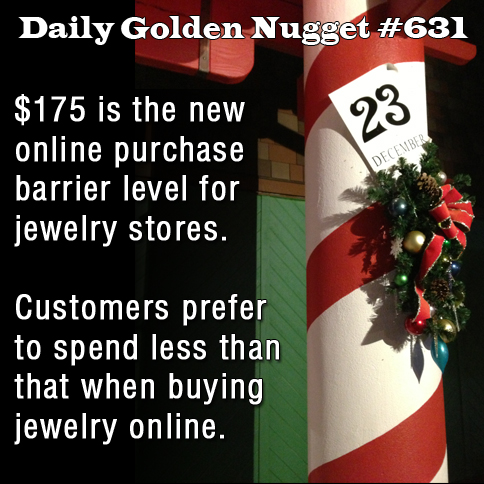 It's Christmas Eve and the holiday gift buying season comes to a close. My team and I have heard mixed reports from the jewelers we work with. Some said it was a good season and some said it was a slow season. Exact numbers up or down won't be known for a little while, but I wanted to review some of the data I collected over the last 30 days.
To start, there certainly was no shortage of last minute deals over the weekend. Of the 200+ retailers I've subscribed to, 31 of them sent an email with a huge savings offer for in-store and online purchases. Many retailers, including Tiffany, Zales, David Yurman, and Blue Nile offered "Holiday Delivery" if an order was placed early enough online on Saturday.
Helzberg Diamonds sent a Saturday offer touting "Gifts Still In Store" with up to $250 off purchase.
Stepping back to Friday, I had a total of 40 more special email offers for last minute shopping that could be delivered by Christmas. Tiffany, Zales, David Yurman, Blue Nile, and Helzberg Diamond have lead aggressive email campaigns this season with emails on a daily basis. Other than these big brands, smaller jewelry retailers and e-tailers also sent out "last chance before Christmas" type email on Thursday December 20th or Friday December 21st.
Every week since November 1, 2012 comScore.com reported that Holiday Spending has increased at least 12% each week over that of the 2011 season. comScore.com reports only indicate online purchases and not actual in-store purchases. Unfortunately their reports showed the largest increase in online sales were for Digital Content, Toys, Video Games, Electronics, and Computers. Once again Jewelry didn't make it onto their radar, but I believe that's because the jewelry industry still lags far behind with online sales.
I'd like to leave you today with perhaps the most important piece of information I've been tracking this year. Although there were online jewelry sales above $250 this season, 84% of the online jewelry sales I tracked were below $175.
What this means for you is that if you're planning to enter the e-commerce game in 2013 you should start by populating your website with lower price point items and gradually add the higher price point items to your site.
Although, there is a large caveat to this lower price point idea: The dollar value of the items above $250 was actually greater than the total dollar value of the lower items. But I want to caution that higher dollar value does not mean higher profits. Your 2013 approach to e-commerce will depend on how soon you want to see sales and how soon you want to turn a profit based on your margins.
Happy Holidays!