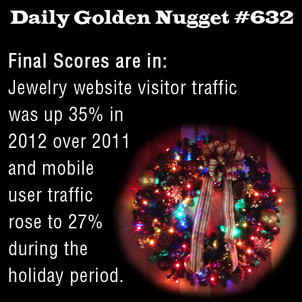 This is Christmas Day!
I'll keep today's Golden Nugget brief and just cover some statistics I've been tracking this season in the jewelry industry.
Here are some stats direct from Google Analytics. These are average statistics measured across many websites run by independent retail jewelers. These statistics include both e-commerce sites and non e-commerce sites and are a comparison of the 2011 Holiday Season to the 2012 Holiday Season.
Website Visits: Up 35.45%
Unique Visitor Count: Up 42.23%
Number of total pages viewed: Up 23.62%
Number of pages viewed per visitor: Down 13.48%
Average Duration a visitor stayed on a site: Up 68.65%
The Number of pages viewed per visitor moved in the wrong direction, but the duration of time people were staying on a site went way up. This means people were spending more time reading fewer pages.
It was predicted that mobile visitors would increase drastically during the holiday season this year. Here's what I found:
Mobile users during the 2012 season, November 1 - December 22, 2012: 27.09%
Mobile users for the immediate preceding period: 24.11%
I find it surprising that for most of 2012 mobile users have measure a consistent 24% instead of steadily rising. Mobile usage was expected to spike during the season, but I expect it will drop back down again next month.
I measured the highest day for total website visitors on Monday December 17, 2012, with the second highest day on Monday December 3, 2012.
Mobile usage showed similar and growing trends through the season. Each weekend since Thanksgiving saw a rise in mobile visitor traffic. Each of the last 5 Sundays had higher visitor counts, with Sunday December 23, 2012 having twice the visitor counts as the Sunday after Thanksgiving.
It's fairly obvious this year that people are learning how to use their smartphones as a tool to aide their holiday shopping.