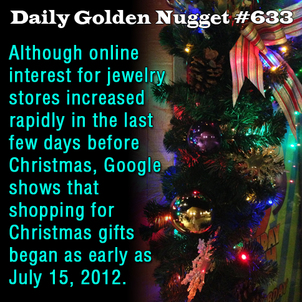 Today I'm reviewing more online tracking data for the 2012 Holiday Season.
According to Google Trends, the online search interest in "jewelry" steadily increased throughout the holiday season from November 1, 2012 through December 22, 2012. The peak days were Cyber Monday, November 26th, Saturday December 8th, Saturday December 15th, and Monday December 17th.
The data from Google Trends seems to show that online interest gold jewelry was greater than silver jewelry. Do your in-store sales reflect higher per item gold sales than silver?
The phrase "jewelry stores" is still the winner as the most important generic online search phrase to locate jewelers. The first big spike in interest was on Saturday November 24, which was the Saturday after Thanksgiving, otherwise known as "Small Business Saturday" when consumers are urged to buy from their local stores.
The highest level of online interest for "jewelry stores" surged on Friday, December 21, 2012. This preceded the last Saturday before Christmas, otherwise known as "Super Saturday." We will have to wait for the final financial reports, but this hints at a strong final weekend of sales before Christmas.
Every holiday season the word "gifts" gains enormous popularity in search. This year the popular gift phrases, in this order, were:
1. Christmas gifts
2. gifts for Christmas
3. gifts for men
4. best gifts
5. gift ideas
6. Christmas gifts 2012
7. gifts for women
The best way to take advantage of the word "gifts" is to include it in your blog articles and change around the navigation on your website to incorporate the word. Online search activity for "Christmas gifts" showed a visible increase as early as July 15, 2012, which is a clear sign that the holiday shopping season started in July this year!