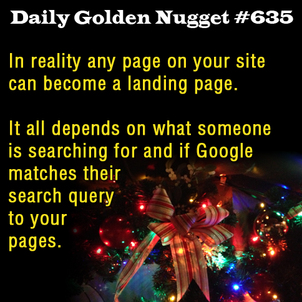 In Yesterday's Daily Golden Nugget I listed the 9 popular pages that people were reading on independent retail jewelry store website throughout the 2012 Holiday Season. Today I'm looking at the popular Landing Pages.
The term "Landing Page" refers to the first page a person visits when they arrive at your site. This is the page you link to from Facebook, Twitter, Google+, or a blog post. More importantly, it's the page that people see when they search for something in Google or Bing.
Google and Bing will decide which page is most important to present as a search result based on each unique search phrase.
The following is a list of the top Landing Pages I tracked this year:
1. Home Page
2. Store Hours
3. Online Catalog
4. Engagement Rings
5. Designer/Brand Specific
6. Holiday Specific Ads
7. Contact Us
8. Sell Your Gold
9. About Us
10. List of Designers Carried
As expected, the Home Page is most popular. What's unexpected is the popularity of the Store Hours page. The websites I track have minimal information on the Store Hours page except the actual hours. According to the Google published guidelines for "quality content" these Store Hours pages should never appear in the search results, yet they are #2 in the most popular Landing Pages.
How is that possible?
The reasoning behind this because Google is showing "Store Hours" as an extra link in the search results; these extra links are called "Site Links." If your website is programmed correctly these Site Links can be very powerful for gaining additional visitors.
I believe that Site Links contributed to the popularity of the Contact Us and About Us pages as well.
Online Catalog are more popular landing pages on sites with greater numbers of products, but the Engagement Ring page is usually a single page on any website. If bridal sales are important to you then you need to add at least 1 page to your site that explains everything there is to know about engagement rings and how you can help choose the perfect one. Of course your results will be a lot better if you add more than 1 page on the bridal topic.
Designer-specific pages are always important on your website. It doesn't matter if you carry well-known designers or unknown designers, just get this information on your site for people to find.
Holiday specific ad pages also included holiday specific product catalogs. These were found as landing pages because they had phrases like "Christmas gifts," "gifts for her," "gifts for him," as well as other holiday phrases that Google served up in the results.
I've read reports that the buying gold is on the decline for several retail jewelers, yet it still appears as #8 in my list of popular landing pages for the holiday season. You should have a dedicated page for this on your website if this is a service you offer.
In reality, any page on your site can become a landing page. It all depends on what someone is searching for and if Google matches their search query to your pages. Larger websites have greater potential for gaining customers.