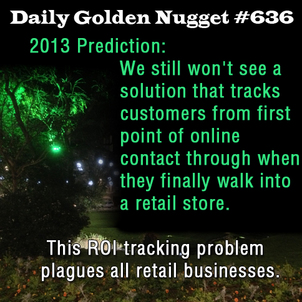 It's the end of one year and the beginning of another, and that means it's time for predictions for next year.
I have 4 predictions for retail jewelry stores for the 2013 year. Here they are...
Prediction #1.
The problem of easy tracking of users from point of origin online to an in-store sale will NOT YET be solved. This is one of the largest problems that retail jewelers face; in fact all businesses that use online marketing to increase the business of their brick and mortar stores face this problem. The true ROI of online marketing and social marketing cannot be measured until there's an ironclad way to track online users from their first contact to the moment when they walk into your store. Pure e-tail websites do not face this problem because online software allows for easy tracking from the beginning of the sales funnel through the final purchase.
Prediction #2.
In order to for retail jewelers to stay in business, they will need to spend more time and money managing their website and growing their overall online presence. As industry media sources review sales from the holiday season, it should be crystal clear that jewelers with large websites and strong social involvement had a successful 2012 holiday sales. In fact,
an article published by JCK last week
named several jewelers with positive 2012 holiday seasons and a few with unsuccessful holiday seasons. A review of the unsuccessful retail jewelers revealed that they didn't have Facebook Pages, Google+ Local accounts, or even websites. In 2013, the majority of jewelers will finally learn how important digital marketing is and that they will need to allocate a much larger budget for it.
Prediction #3.
This next prediction is for all businesses in general, because it's a typical problem for everyone. There will be a realization that having an online presence is not enough, but the online presence needs to continually grow and change depending on what the buying audience is expecting. By the time 2009 came around, it was no longer good enough to build a website then forget about it. Still, very few website owners realized that a website was never completed, and that the online presence of a business needed to forever evolve and grow.
As an example, in 2012 there was a surge of interest in Pinterest and Instagram. Even though both of these systems had already been around since 2010, they were unknown to the general public until 2012. Using them in marketing strategies is continually evolving, and the jewelry buying audience expects websites to be available through every fashionable new social network. Something different will emerge in 2013 that you will have to get involved with in order to grow, or simply maintain your audience.
Prediction #4.
Transformation of Google search and Google+ will evolve. 2012 was a bigger year for the transformation of SEO tactics than anyone could have predicted. As a result of Google's changes, few jewelers are realizing yet how powerful SEO is through Google+. Sure, Google+ is not the social juggernaut for communicating with your friends, but the information on there is actually helpful and interesting.
My specific Google Search and Google+ prediction involves the ability to perform local searches. In order to perform accurate "local" searches outside of your neighborhood you are now forced to use Google+. I'll talk more about this in a Nugget later this week, but for now I'm predicting that businesses in general (but not necessarily millions of people) will jump onboard Google+ rapidly in 2013.
And there you have it, my predictions for 2013.
Cheers to a happy and healthy New Year! With any luck, it will be your year to win.