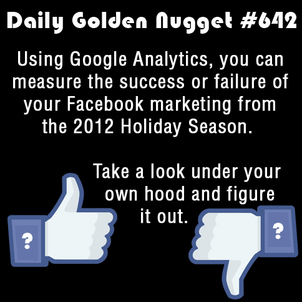 Regardless of whether your sales were up or down for the 2012 holiday season, you should still evaluate what part of your marketing plan worked and what failed.
To help you with your evaluation, I'm going to review how you can measure the reality of your social marketing efforts from Facebook.
I'm going to explain a few Google searches below. For your own best test results with these searches you should use the Google Chrome web browser in "incognito" mode. If you don't have Chrome then make sure you log out of your Google account before you try my suggested search tests.
The first thing you should evaluate is if Google is correctly finding things you are posting to your Facebook page. Do a search for your store name along with your town name. You should see your website ranked as #1, and in most cases your Facebook page should be #2. If Facebook is not #2 then it should at least be on the first page of results. If not, you need to find out why.
Next, do another Google search for a hot topic you recently had on your page, or even the title of one of your Facebook photo albums. Look through the first 2 pages of search results for any mention of your Facebook page, more specifically, look for the green website address that says facebook.com/your-page-name-here. Google is correctly reading your page if you see this.
If Google isn't reading your Facebook page, it could be because you are using a Facebook Profile instead of a Page. Another possibility is that you don't have enough information added to the About section of your FB page. Make sure you add as much detail as possible, including your address and store hours.
Still another possibility is that you haven't yet chosen a username for your Facebook Page, or the username you chose doesn't correctly match your store name. If either case is true, you should choose a different username for your Facebook Page. You only get one shot at changing it so use it wisely.
The next step in reality-checking your Facebook Page is to visit your Google Analytics. Inside Analytics, you need to check the referral sources for your website. Use the left navigation to drill down into your referral sources by clicking Traffic Sources, Sources, Referrals.
When you get to that Referrals screen you need to type "facebook" into the search field and click the little magnifying glass button to filter the results. This will show you all the referrals from your Facebook page.
Most jewelers should see "facebook.com" and "m.facebook.com" in the filtered results. Those with custom applications will also see "apps.facebook.com" in the referral list.
This list of Facebook referrals will be small. Even jewelers with thousands of Facebook fans won't see many people clicking from Facebook to their website through an organic process. On the other hand, you will see a lot of visitors if you have a paid FB campaign running, but most jewelers won't have more than 40 visits, even in a busy month like December.
Now here's the reality check... How many people visited your store during the Holiday Season and also mentioned your Facebook page? Did you post any promotions on your FB Page that would have driven traffic to your website or made incentives for people to visit your store?
From my point of view, Facebook is just a single marketing method within your overall marketing umbrella. As a lead generation source you need to compare the number of customers acquired by Facebook to the number of people acquired through other marketing channels. There should be a few, but probably not the large numbers that all the experts said there would be.
The last step is to compare your customer acquisition to the time and money you put into your Facebook marketing.
Did it pay off? Evaluate it for yourself.