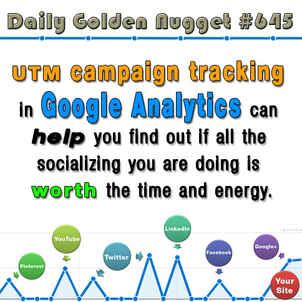 Over the last two days I've explained the frustrations of trying to pull together all the reporting methods from many online tools and social media platforms. I also explained how you can use the built in UTM tracking feature from Google Analytics to bypass those reporting frustrations and direct all trackable information to a single place.
Today I'll explain where to find the reporting inside of Google Analytics.
Start by logging into your Google Analytics account and click "Traffic Sources" in the left navigation. After the menu expands, click the option for "Sources" to open the sub menu under that. And finally, click on the option for "All Traffic."
Typically the page for All Traffic shows the visitors that came from google.com, facebook.com, yahoo.com, and all other online referral sources. You can see all your visitors from Facebook by looking at the numbers next to "facebook.com/referral" or "m.facebook.com/referral" or even "apps.facebook.com/referral." You can even click those facebook.com lines to see more details.
Once you drill down into the individual line, you can turn on the ability to see the specific page the visitor landed on. To view the landing pages, you need to click the button that says "Secondary dimension" then the sub option for "Traffic Sources" then "Landing Page." This will change the report to show the number of visitors side by side with the pages they were reading.
This is very cool stuff to look at! But now let's look at the UTM tracking I explained yesterday...
If you followed along with the above steps, you should also see a link for "Campaigns" in the left margin right now. Click that option to display all the campaigns you created so we can see what was tracked.
As I said yesterday, I like to refer to all my campaigns by their dates, as in 2012-12-28. Back on December 28th I actually used utm_campaign=2012-12-28 for my tracking, and I now see the campaign "2012-12-28" in my list of campaigns on Google Analytics.
Clicking on the 2012-12-28 link bring me the list of all the social networks where I shared my blog post that day. I see Twitter, LinkedIn, Google+, my personal Facebook page, and my business Facebook Page. In one place I can see the results from 5 different social networks, and I can see when that link was clicked.
I can't go into all the exact details in a short Daily Golden Nugget, so you will have to experiment with the report I just lead you to; but let me give you a hint of what you can see here...
Here's a breakdown of what I see according to dates:
December 28: Clicks from Twitter and LinkedIn
December 29: Clicks from Twitter and the business FB Page
December 30: Clicks from the business FB Page only
December 31: Clicks from Google+ only
January 1: Clicks from Google+ only
January 2: Clicks from Google+ and Twitter
As you can see, the social sharing activity that was set up on the 28th has a life expectancy of about 6 days, even through a major holiday.
I entreat you to experiment with the UTM example I gave you yesterday and carefully analyze the results of your direct social sharing activity over the course of a month. For extremely granular tracking, you should also include the posting time as your utm_term as I explained yesterday.
At the end of the month you will know whether or not all your happy socializing is worth the effort you put into it.