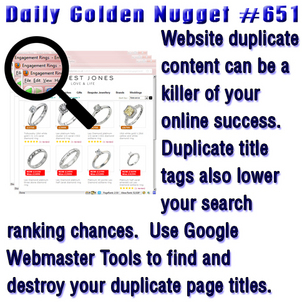 Talk to any SEO professional and you're likely to hear the phrase "duplicate content" over and over again as one of the things you should avoid on a website. One of the larger tasks of search engine optimization (SEO) is to protect yourself from duplicate content penalties assigned by search engines, with Google in particular.
Here are common situations that can create duplicate content penalties:
1. Items in your product catalog appear
multiple times on your site
. You might have a product appearing on your "engagement ring page" but then it also appears in your
general online catalog
.
2. Information on your website is copied from another website. This also happens when
vendors share
common product information
or press releases to multiple jewelers.
3. You might write a blog post for yourself but you used source material from another website without 100% rewriting it.
Google sees all
, and perhaps is better at detecting plagiarism than copyright lawyers.
4. Duplicate page titles are also a problem for many websites. This is usually a larger problem on new websites that haven't taken the time to optimize their titles, but it can also be a problem on websites that have incorrectly configured SEO extensions/plug-ins/widgets.
Google cares about duplicate content because they want all of us to add valuable new content to the internet. They want users to find useful results in search instead of repetitive garbage that only exists to sucker you into buying something. Their requirement is forcing people to become proficient at writing, and perhaps Google will spur the younger generations to have far better writing skills than most of us have right now.
Finding duplicate content on your website is easy to do by typing site:yourdomain.com into Google. the special "site:" command will show you many of the pages Google sees. Just look for repetitive information in the results.
On the other hand, it's not so easy to find duplicate page title tags. Google won't clearly show duplicate pages in the results; for this you will need to use Google Webmaster Tools (GWT). For more information on GWT go to http://www.google.com/webmasters/tools/.
Once inside your GWT account, you need to look into the area for "Optimization" and "HTML Improvements." This report will show the number of pages with duplicate meta descriptions and duplicate title tags. You can drill down into the report to see the actual duplicate titles and the pages that have them.
To clean this up, you or your SEO professional will have to edit each of the reported pages and modify the titles. Your page titles should be fewer than 67 characters long and should be an accurate description of what the page is about.
Google does a lot of "thinking" before returning search results. Part of that thinking is to rewrite duplicate page titles on the fly with a best guess of what the title should be. Don't fool yourself into thinking that you can rely on Google to write your title tags for you, because one day they might simply stop doing it.
In closing, having unique page title tags is one of the easiest ways to jump your search ranking. This is where you should begin if you are just getting started in SEO.