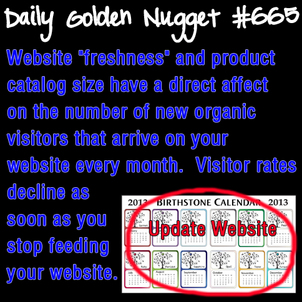 Google has a YouTube video training channel called
GoogleWebmasterHelp
where I go to hear the weekly tips that they suggest, and to see their latest Q&A videos.
One of the common questions among all SEO professionals is how often you should update your website in order to stay popular in search results. Within the SEO community the term "website freshness" is used to indicate when you last updated your website. The Webmaster Help channel published a video on October 1, 2012 explaining
how important freshness was for ranking of your website
.
That video mentions a generalization that all online searches into 3 categories:
1. Navigational - when someone searches for your store name
2. Informational - when someone searches for "how to" directions or anything that interested them
3. Transactional - when someone searches for anything relating to a purchase or a product
One quick look at your Google Analytics and you will easily see that the "Navigational" search type always brings the most number of website visitors every month through organic search traffic. That organic number will usually increase or decrease depending on your amount of offline advertising.
For the jewelry industry, the "Informational" search types would include people looking for 4C's information, birthstone information, and the latest jewelry fashion trends. Google recommends adding information to you website that would be usable year after year, commonly called "evergreen content." For a jeweler, evergreen content would certainly include 4C's information and birthstones of the month.
You could consider your website blog to be your "informational" source, but it seems more likely that "evergreen" content needs to be more than 800 words long. Most blog posts tend to be 400 words or less.
Anyone with a product catalog on their website has a chance to attract users from the "Transactional" search type. These users are looking for specific products by narrowing their search as they read "informational" websites.
Among the many retail jewelry sites I track I have the opportunity to measure these different search types and how they actually relate to the freshness of a website. I recently sat down to compare many different jewelry sites, with and without product catalogs, and with and without blogs. My goal was to see if the frequency of updates, i.e. the "freshness" of the site, actually played a significant role in the organic search results.
The results were interesting...
Finding #1:
Adding a product catalog to your website doesn't seem to boost your new organic visitor traffic until you have more than 300 items on your website. Typically every product on your website would also equate to 1 extra page on your site. My assumption is that organic "transactional" traffic starts to steadily increase when you finally have enough products on your site to qualify as a "product catalog" in the eyes of Google.
Finding #2:
Product catalog websites will slowly lose their ranking in "transactional" searches when you stop updating your catalog. The loss in ranking is noticeable within 3 months as you lose the number of organic visitors searching for product related keyword phrases.
Finding #3:
Jewelry sites with blogs seem to attract organic visitors with "informational" search requests. But the number of organic visitors starts to decline within 30 days if you let your blog go dormant for 30 days. This appears as a slight dip in visitor traffic at first, but within 5 months you will dip to the same level or even lower than the organic visitor levels you had prior to starting your blog.
By far my 3rd finding surprised me the most. I cross referenced this on as many websites as I could just to confirm it. I knew that updating your website regularly was important, but this is the first time I was able to map out clear decline of organic visitors when you stop updating your website.
The conclusion of today's Daily Golden Nugget is that product catalogs need to be big and updated, and new content needs to be added to your website at least once every 30 days. Unlike years ago when you could set up a website and forget about it, Google simply won't send organic visitors to your site unless you keep it updated.