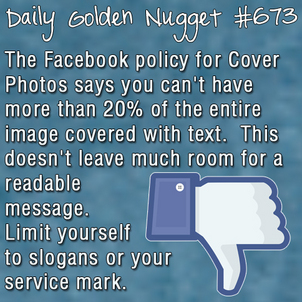 I remember reading Facebook studies from 2011 showing that the most popular types of updates to Facebook were images. When comparing text updates, video updates, and photos updates, the photos had the highest ratings in the studies.
It certainly was true for a while; any photo posted to Facebook would be seen by a larger number of your fans and friends. The results were clearly measurable.
Within a short time many brands started to flood their posts with images. This exploitation eventually lead to a change in how images appear in Facebook and now photos are not the best type of updates.
In December 2012 Facebook modified their Advertising Guidelines to include a limit on how you can use text in an image. Specifically, any text cannot cover more than 20% of the image. This new policy applied to your the large photo at the top of your business page, called your cover photo, and any advertisement you pay for. This new policy does not apply to images you post to your Timeline, unless you plan to "promote" them.
Figuring out how to calculate 20% coverage of your image requires math, and a complete understanding of how to measure pixel image dimensions in your image editing program. In other words, this policy is difficult to follow unless you own, and know how to use, a graphics program like PhotoShop.
To make the process a little easier for you, I've created 4 different image templates that you can save to your computer and use to help create your own cover image. You can save these four images by right-clicking on them and select the Save Image option.




With these new limitations you now need to figure out the best use of the 20% area in the cover photo. It could be your store slogan, service mark, or store name. In the past few months I've seen a few jewelers with cover photos with huge words saying "Happy Holidays" and "Happy Valentine's Day." Sadly those simple photos are not allowed with this new policy.
As I said, the 20% limitation also applies to any image you post to your Timeline if, and only if, you are also planning on "promoting" the post. If you'd like your status update to reach more people you can pay Facebook to "promote your post." A promoted post will appear as a normal status update, but it will stay in the News Feed of your followers for a few days.
Many inspirational messages are posted as images with written text. Most of those inspirational images could not be promoted. In fact, the placard images that accompany this Daily Golden Nugget is also disqualified under the 20% maximum text coverage rule.
Again, let me stress that this 20% coverage limitation only applies to images you are using in paid advertising on Facebook. These are the "Facebook Advertising Guidelines" and you can read them in full here: https://www.facebook.com/ad_guidelines.php
From an advertising point of view, this policy is another reason why Facebook should not be the only social networking platform that businesses use.