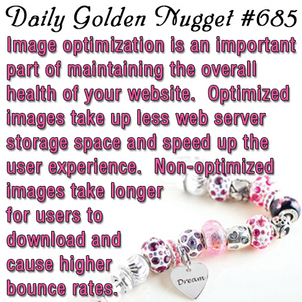 Today's Nugget provides a technical background of how your website's storage size can grow over time. Not all website hosting plans are the same, and you should be aware of how your website will eventually outgrow what is allocated to you.
Have you ever looked at the space capacity on the hard drive of your Mac or the C drive of your Windows PC? Over time the available free space seems to disappear without it being very clear why. Your personal computer has a finite amount of space, and over time that space is used up by programs, files, photos, music, software updates, and dreaded temporary files. Eventually you have to upgrade your hard drive or replace your computer.
Similarly with your website, every web host allocates finite hard drive space for your website to use. They call this your "quota," and you will probably outgrow it over time just like you outgrow your computer.
Pages that you add or create on your website take up very little space from your hard drive quote. In fact, it might take hundreds of web pages to equal the same amount of hard drive space as a single photo from your camera.
Every image you upload to your website will eat up hard drive space, and if you upload several images at a time you might not even realize how much space you are using.
As an example, you might have a web page for your custom design jewelry. The page itself might be 25KB is size, which is the same as 0.025MB. But each of the custom jewelry photographs might have an 8KB thumbnail size (that's 0.008MB) and a 0.2MB full size image. A custom jewelry gallery of 20 photos could easily take up 4.2MB on your website.
In that above example I'm suggesting that the "full size image" is 0.2MB, also referred to as 200KB. The photos you take with your digital camera are probably between 1.2MB and 4MB in size. The more expensive cameras will create better looking, and larger file size images than your everyday average pocket sized camera.
The photos that you download from your digital camera are sometimes referred to as "raw" photos, or simply "full size" photos. Website optimization professionals also refer to those full size images as "non-optimized." Normally these non-optimized photos should not be uploaded to your website. There are some exceptions, but the non-optimized images are usually even too large for a zoom feature in your product catalog.
Consider this: If you uploaded 20 non-optimized photos of your custom design jewelry styles that 4.2MB example page I mentioned above would shoot up to 42MB in size.
A product catalog with 200 items and non-optimized photos might take up 420MB on your website. But if you take the time to correctly resize your raw photos into "optimized" photos you could have a catalog with 5000 items that only uses 1000MB (i.e. 1GB).
Most basic web hosting plans come with 10GB of storage space, which really isn't a lot in the multi-media world we now live in. A 10GB hosting plan could not fit all 5000 items with non-optimized images.
Website backups are another consideration which uses up a lot of hard drive space. You web host should provide some type of backup. Backup files saved on your website will count towards your hard drive quota. A 5000 product website with 1GB of normal quote usage might jump to 2.5GB of hard drive quota usage when including backup files.
By the way, video files are very large; perhaps even 10MB or more per video. I always recommend using a video hosting company, like YouTube, to store your videos and then embed them into your website. Even saving a few videos directly on your website can cause storage space to exceed your quota unexpectedly.
Consider this, if 200 non-optimized images take up 420B, then that means you would exceed the limit of a basic hosting plan once you reach 4760 items in your product catalog. This is very different than the example I mentioned above with 5000 items using optimized photos.
There are issues to be aware of when your website grows too big... The main problem is that your backup copies take a long time to complete. Websites with 1GB or more hard drive size might take 40 minutes to complete a full backup. During that time your website will run slower.
With non-optimized images, your users will also experience slower usability of your website. It simply takes longer to download individual images that are not really intended to use online. Take a look at this as an example of a poorly optimized page:http://www.royalchain.com/index.php/personality.html
At the time of this writing, the bracelet on that page was 653KB in size and it was in CMYK format. A quick pass through PhotoShop and that bracelet could have been optimized to 69K without losing any visible quality on the web.
The bottom line of today's Daily Golden Nugget is that you should be aware that uploading of non-optimized images to your website can quickly eat up the hard drive quota assigned, and they will slow down the user experience. Both of these factors will lead to higher bounce rates.