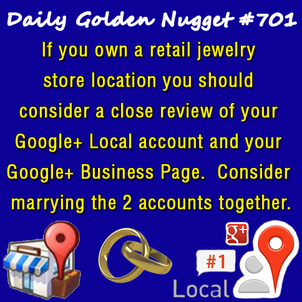 This is the second part of a 2-part nugget. Please
read the first part here
.
Step 5: Setting Up Your Google+ Page
Now we need to set up your Google+ Page from within Google+. Navigate over to your Google+ profile home page at https://plus.google.com/. On the left side of the screen you will see a bunch of gray icons that says Profile, Explore, Photos, etc. Click the icon that says "Pages," but if you don't see it immediately then it's hidden behind the "More" icon.
You should now see a mostly empty page with the heading "Manage your pages" and a red button that says "Create New Page." Click that red button then select the category of "Local Business or Place" that you see on the next page. WARNING: As a B&M retail store you MUST select "Local Business" otherwise you will have to delete and start over again.
You will see a prompt to select your country and to enter your telephone number. Make sure you enter the same telephone number that was already entered on your Places account from the previous steps. If you skipped Steps 2 - 4 then simply enter your main telephone number and click the blue "Locate" button.
Assuming Google is connecting their systems correctly, you will see your jewelry store in a pop-up list of businesses to choose from. Click your business name to continue to the "Confirm your info" screen. Click the blue OK button.
You will then be prompted for your website address and to agree to the Google+ Page Terms before you are allowed to click the red Continue button.
The final screen before the initial setup is complete gives you the option to enter your email address and select the business Categories for your store. Click the blue Finish button when you've finished adding this information.
Google+ will prompt you to read all their tips, but I'd like you to continue with the next step first.
Just to be clear, the setup you just completed was the creation of your Google+ Business Page, or simple Google+ Page for short. At this point you officially have a "Google+ Local" page and a "Google+ Page." The next step explains how to merge them into one.
Step 6: Requesting Verification of Your Google+ Page
As part of this new page setup, Google will ask you to verify it by clicking on the "Unverified" link on the top menu or clicking the blue "Verify now" button in the right side of the screen.
When you click the "Verify now" button you will be brought to a page that says "We found a matching business" which will once again show your business name and address. Assuming you have followed these directions from the beginning, you should see your correct address on the screen.
Telephone verification for Google+ Pages isn't available, so they will have to send you a postcard with a verification PIN on it. For now you should just click the blue "Yes, submit" button.
On the next screen they ask you to agree to their terms and conditions one more time before you can click the blue "Send postcard" button. You should see a pop-up notice telling you how long until the postcard will arrive.
Step 7: Final Verification and Merge of +Local and +Page
Be on the lookup for the envelope from Google. It should be clearly marked with the message "You're one step away" and "The PIN you requested is inside."
Once in hand, log into your Google account first, then navigate over to
http://www.google.com/local/verify/
.
That web page will prompt you for the PIN and to click the blue "Submit" button.
After that it will take a few days for your +Local and your +Pages to merge... and you're all done with this process.
IMPORTANT: Once you merge your pages Google still (foolishly) allows you to edit your information through the old http://www.google.com/places location... DON'T DO THAT! There are many warnings online and in Google support forums that report of potential account breaking deleting when you attempt to edit your merged "+Page" through the old "Places" website.
Google is working towards a unification of all their business services. This merging process is very tricky, but unfortunately it's necessary. The instructions above should be enough to guide even the faint of heart through the process; but if you are a complete chicken then ask your IT support person to help you with this.