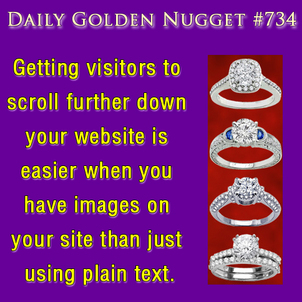 A quick look in my screen resolution tracking tells me that there are 804 different screen sizes actively measured in the last 30 days. With that many screen sizes it's virtually impossible to design a website to please every user. In yesterday's Daily Nugget I explained how you can use
scrollmapping
to measure what parts of your web page are most frequently viewed. With that measurement you can get a better idea of how to design your website based on screen sizes.
However, faced with 804 screen sizes, it's pretty difficult to accomplish this without taking a few shortcuts. So how can you maximize the amount that someone will scroll down your web page?
Here are a few ideas I've compiled that "invite" users to scroll further down your page.
Scrolling Idea 1: Use Taller Images.
Website ages and blog posts are boring without images. The typical web page will include square or rectangular (wide) images that associate with the adjacent content. But square images don't promote scrolling, and many times there's even a negative space directly under an image that creates a "stopping" point for readers.
You can use tall images in the right or left margins of your page to lure people to keep scrolling. Users might have "banner blindness" to images that have the typical banner size of 120 pixels wide by 600 pixels tall, so make your images wider than 150 or thinned than 120.
Don't use tall images on every page of your website otherwise users will quickly develop blindness to it as well.
Scrolling Ides 2: Tall Menus
Lots of websites prefer the drop down menu style at the top of the page over a navigation menu that's positioned on the right or the left of the screen. I find that side navigation increases the scrolling of visitors, and it also lowers the bounce rate since users can quickly choose another page to jump to.
Simply having a side navigation doesn't guarantee that users will scroll more. You actually have to design it so it obviously extends blow the visible portion of the page.
Scrolling Idea 3: Using Several Photos Per Page
Including a single photo in a blog post could limit how far down someone scrolls on your page. It's likely that they will stop scrolling if the blog is not engaging enough to keep them interested past the photo. However, you could strategically place one photo after another so the top of the next photo is visible by the time someone scrolls enough to see the current photo at the optical center point on their screen.
This strategy could produce a lot of image clutter, so use it sparingly in blog posts that you expect long term results from.
Scrolling Idea 4: Engaging Written Information
This is probably the most difficult idea because you really need to write entertaining website content that people enjoy reading. Entertaining content usually relates humor and wit along with the story being told. That story can educate or simply provide enjoyment. Bloggers who typically write 1200 words or more have managed to perfect this technique for themselves; otherwise they would not have any readers.
So there you have it, 4 ways to increase the scrolling potentials of your website. If you've added scrollmapping monitoring to your website you should be able to apply Idea 1 quickly enough to measure the change in results.