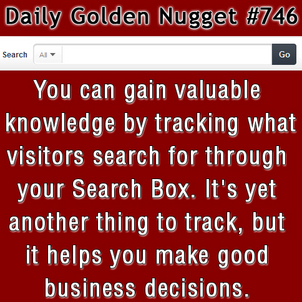 When you visit any large e-commerce website, like Amazon or eBay, the first thing you are likely to do is type some keywords into their search box. Search boxes have become common place on e-commerce website, and sometimes you'd be lost without it.
Retail jewelers don't often think to add a search box to their website; indeed, is there really a need?
The search box could tie into searches through your blog posts, content on your website, and your product catalog. Most users would probably only expect product search results when they search for "engagement rings" but keywords could also trigger results from blog posts with engagement stories.
A search box should be set up on any website with more than 500 jewelry styles on it. It simply allows people to search your catalog faster than using your navigation. Although, the search might not work as you expect or as your customers expect if you haven't taken the time to fully embellish your product descriptions. Search box functionality and results will be very limited without quality product descriptions, even if you have 1000 items on your website.
Many of the jewelers I work with use their search box as a sales tool. When they get product inquiry phone calls, a sales associate will often time lead the customer through a search process using a specific style number provided by the associate.
One thing many e-commerce website owners overlook, not just jewelers, is that you can monitor how people use the search box, and what they search for. See multiple searches for the same items means you might have an opportunity to better reorganize your website so visitors can find those products faster. You could also highlight items like that on your home page, or even strategically place them deeper within your site.
Like all website testing, the knowledge you gain will help improve the content you blog about, the design of your website, and the types of marketing promotions you should have.
Tracking how visitors use your search box is probably not something Google Analytics can help you with. You will need to ask your web developer how to do it... Then you just need to make time to read the results.