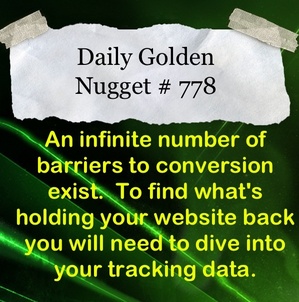 In yesterday's Daily Golden Nugget I presented
6 steps that you need, to refine your website for organic traffic and customer conversion
.  Today I want to elaborate on what I stated for step #4:
"Discover problems with the site that prevent people from converting from simple visitors into customers."
That discovery process is commonly referred to in more simple terms as "Barriers to Conversion."  Today I'm going to explore these 4 common barriers that send people running away from your website:
1. Website Design
2. Photography
3. Return Policy
4. Guest Checkout
The topic of Website Design has been mentioned a lot over the last 12 months, especially with all the talk of
responsive website design
.  It doesn't matter if you choose a responsive design or not, what really matters is how your website looks and functions.
A website design might be bad even though you like the way it looks.  The bounce rate of your website should be
a good indicator
if your website design is really bad.  Of course the word "bad" is subjective and it could mean that the colors don't match or that the spacing is too close.
Other problems with the design also include content that is visually confusing because there is too much to read on a single page.  Some websites are difficult to learn because navigation links and features are not where you would expect them to be.
For the purposes of this Nugget I'm also going to lump poor functionality into the group of bad design.  After all, testing the way a website works is part of the design and usability of a website.  Poor functionality includes things like testing JavaScript programming in all browsers to make sure it works.
The next barrier that I've listed is Photography.  Jewelers are in the business of making people feel good about themselves and about the people they love by adorning each other with items of beauty.  Sadly many jewelers haven't figured out how to take jewelry photography correctly.  I've seen dimly lit, blurry, and incorrectly colored photos of magnificent pieces of jewelry that make them look like they came from a Cracker Jack box.  There is no way that these poor photos will generate sales.
If you don't take the time to produce quality photos you might as well delete your online product catalog.  You should never fool yourself into thinking that poor photography is "good enough" because it's actually working against you.
The 3rd item on my barriers list is your Return Policy.  When it comes to e-commerce, people will honestly read this policy before they proceed with their purchase.  I know many jewelers that were willing to simply copy their return policy from other sources without reading it or applying some of their own common sense. 
Your own return policy should not be poorly written or even be written in legal terms.  How would you explain your return policy to someone in your store?  It should be simple enough for customers to repack the item and ship it back.  If put too many exclusions in your policy it will prevent people from ordering.  If you require an RMA number then provide a fast way for someone to get it via a phone call or an online form that is fully automated.
The last item on my barrier list is a Guest Checkout.  This applies specifically to e-commerce websites and their process of allowing people to make a purchase.  As a feature of your shopping cart you should allow users to start and complete the payment process without forcing them to first create a user account on your website.  It's okay to create an account for them after they've completed their purchase, but don't create that account unless they click that last "process order" button.
A similar conversion barrier exists when you also force someone to create an account in order to add an item to their Wish List.  A better approach would be to use some type of browser technology to allow users to add items to their Wish List but then allow them to create an account before they leave the site.
Simply having a website is not going to increase your business dramatically unless you have dumb luck and good timing, or you spend the time it takes to turn it into a real sales tool.  I've explained only 4 barriers to conversion today, but there are an infinite number of barriers that can be identified on any website.  You will have to dive into some tracking data in order to find the barriers that are holding you back from success.