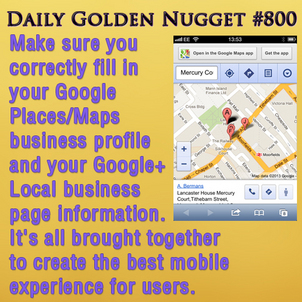 Today is Daily Golden Nugget number 800! Daily Nugget #1 was a basic introduction to Google Maps on a smartphone and every 100 nuggets since then, jWAG has revisited Google Maps and how it works at that time.
Over the last 3 years we've seen many changes to how Google Maps functions, and we seen a few name changes too. "Maps" became "Places" but then "Places" became "Local." When using Google on a desktop you will find that Places has been merged into Google+ Pages. The whole technology is a little confusing now since there are blurred lines of where +Pages end and +Local now begins.
On the smartphone side of things, Google has their reliable Maps App. Google lost a bit of smartphone market share when Apple released their iPhone 5 with a native Apple Maps program instead of Google Maps, but within a few months Google Maps was available on the iPhone again.
Google has also dabbled with a few other smartphone apps that interacted with locations. The Google Latitude app allowed users to check-in to places and businesses, and the Google Local app allowed easy searches to find local businesses. Both of these apps were shut down last week. The features from Latitude were merged into Google+ and the features from Local were merged back into Maps... which is where they originally started.
In a Nugget earlier this week I explained how different business results appear when using the
Google Maps app compared to Google Search through a mobile browser
. Controlling the information that appears in those results is still fragmented. In some cases you should still be editing your information using the old Google Places interface located here: https://www.google.com/business/placesforbusiness or you should be editing your business information through Google+.
The information you add into your business Google accounts becomes an important part of how people will find you out I the real world using smartphones. Here's how some of it fits together:
Photos you upload into your account are used to help people find your store. Make sure you always upload a photo of the storefront as the primary photo.
Always make sure your hours are up to date in your accounts. Google uses the store hours to provide real time results for people searching for stores that are open right now. The various Google properties always show the hours in a prominent manner.
Make sure you list your primary store type as your first category choice. Within the Google Places for Business system you can choose a number of business types. A jewelry store should always choose "jeweler" as the main category, followed by watch store, jewelry repair, appraiser, or gift store. There are hundreds of other options build into the system, or you can write in your own, but I don't recommend it.
Make sure your address is correct. Google acquires addresses from other business records and sometimes your address will be listed slightly incorrectly. You should also verify the location pointer as indicated on the map.
Don't forget about your telephone number. All of Google's apps and websites will show the telephone number, and the smartphones will give users a single tap to call button.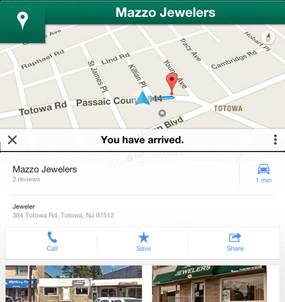 The image to the right shows how Google Maps can be used for GPS navigation in your car. The top part of the image shows the map image as you are driving. You can
click here to view a larger version of the screen capture
.
When you get within 100 feet of your destination, the Maps app alerts you that you have arrived and the view switches from the map to the Google Places listing as shown in the bottom part of the image to the right.
If you look closely in the bottom part of the image you will see an outside photography of the jewelry store on the right, and the Google Street View photo on the left. Both of these photos are very important for a car driver because they provide visual reference for your store while driving. Have you ever navigated yourself to an address but when you get there you still can't find the place because you don't know what it looks like? The marriage of Google Maps and Places information completely solves that problem... assuming the business owner has correctly filled in their information as I mentioned above.
So there it is, Daily Golden Nugget 800 with more information on how Google Maps can literally drive someone to your front door. Remember that all of Google's services are free, but that doesn't mean they are worthless. You need to claim your Places/Maps/Google+ account and confirm everything that they filled in for you.
My tracking data shows that even jewelers currently experiencing slower sales, have about 1000 Google Maps impressions per month. It's worth your time to take care of this today.
(It turns out that Nugget 800 was also 800 words long without even trying to make that happen.)