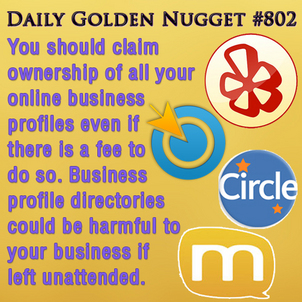 The internet is an interesting place. You can find a lot of random stuff online, including things you never expected. While conducting some research for mobile usability I found the
2012 Consumer Complaint Survey Report
published by the
Consumer Federation of America
(CFA) on July 31, 2013. The focus of this report is to give consumers extra knowledge in how to protect themselves in regular business transactions.
Page 34 of the report detailed an incident they call the "Case of the Disappearing Diamond" which I'd like to recount here.
A jeweler in Fairfax County, VA was supposed to mount a customer's 0.80 ct diamond into a new setting. Somehow the diamond and the setting were lost while in the jeweler's care.
According to the report the jeweler offered a 1.10 ct diamond as a replacement but the customer wanted the cash value back for the diamond and setting instead. When the Fairfax County Dept. of Cable and Consumer Services stepped in to mediate, the customer accepted the offer of a replacement setting and a 1.15 ct diamond.
As a result of this situation, the CFA recommends that all customers bring their jewelry in for repairs should get a receipt that describes the jewelry in as much detail as would be needed for replacement in case of theft, fire, or other calamity. This recommendation sounds like a good practice to me but from working closely with jewelers in person I know that the repair take-in receipts rarely detail the jewelry enough for a fair replacement.
Although a change in your in-store procedures might be warranted, what I'd like to point out is that the appearance of this online complaint could cause more problems for the jeweler than one on Google+ or Yelp because this is an official registered complaint.
Consumers are becoming savvier about the ways of the internet. Your own business practice could come under scrutiny in a public forum where a single person could seriously impact your business if you make them mad. As I read through this CFA report I eventually found myself on the fairfaxcounty.gov website where I found additional complaints against 8 other jewelers.
Here's one jeweler who has a website and took ownership of their Yelp account and Manta account (as if anyone even knows what Manta is!), but seems to be ignoring what's really hurting her business...
O'Donnell Jewelers (
www.odonnellsjewelers.com
)
Yelp Account:
here
Manta Account:
here
The Fairfax County website has 2 complaints against O'Donnell (
see them here
) that also appear as reviews on the RestonPatch (
read them here
), Google+ Local (
seen here
), and Judy's Book (
shown here
).
It's more than a year since these bad online reviews were posted but the owner of the store hasn't bothered to take ownership of their Google+, Patch, or Judy's Book account in order to write a reply.
All unanswered online reviews are a detriment to your business and your customers won't care to consider "the other side of the story" if you don't bother to show interest.
It took a long time for me to read through all these reviews to pull this Daily Golden Nugget together, but with reviews like these, you can be sure that your average customer will move on to the next jeweler after reading only one of these reviews.
Take steps to protect yourself from a bad online reputation. Start with a Google search for your business name, and make sure to search for your trade name as well as your corporate name. You will probably find dozens of directory type websites with your information. Take ownership of ALL OF THEM even if they are paid services. Then update your information as needed and respond to any negative online reviews.
Remember that negative online reviews always start with a negative experience in your store or on the telephone. Always provide service with a smile and don't belittle customers when they are wrong; instead take that opportunity to educate them in a friendly manner. Even the shortest telephone exchanges can result in negative online reviews so even if you can't help the person you should say so in a courteous manner.
It doesn't matter how good your website looks or how perfect your SEO is when your business suffers greatly from a bad reputation online.