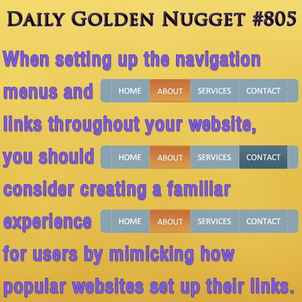 In this edition of the Friday Jewelry Website Review I'm targeting jewelers in Atlanta, GA to find a good example of a website we can all learn the good and bad from. Using Google's Chrome browser in incognito mode I searched for "jewelry stores atlanta ga" and was presented with 7 options for local jewelers. I selected the 3rd jeweler in the list because they were clearly an independent retail jeweler like most of my readers.
Here's the website:
http://www.palasjewelers.com
; you might want to open it up to follow along as you read this review.
Usability Issues:
I didn't really like the way the navigation areas were organized on this website. The top links on the site lead you to Customer Care, Search, Shopping Cart, Sell Your Gold, and Appraisal Services. The left navigation focuses on the product catalog. You have to scroll all the way to the bottom to find the Contact Us page, Special Events, and a link back to the Home page. Links to the Contact and Home pages should always be near the top of the page and easy to find.
While browsing the product catalog, I felt a little confused. I see that the category name that I'm looking at appears at the top of the browse pages as I look at the selection of products, but then that category name goes away when I look at the individual products. Of course you can simply click the browser's back button to return to the browse page but I feel this creates a usability disconnect.
I attempted to sign up for their newsletter by clicking the sign up link on the top right. A popup window asked me for my email address. After submitting my email that popup window tried to display a Thank You page but the full thank you message didn't fit in the window. I had to scroll around the window to see the message included a coupon for 20% off all jewelry and gifts and 10% off all diamond solitaires.
What I Didn't Like About the Site:
I was happy to see they have a blog located at http://palasjewelers.com/blog/
The first thing I saw when I clicked on it was a post from July 26th. My immediate thought was "Okay good, they update this at least once per month" but then I scrolled down a little bit to see it was updated 388 days ago. My "good" just turned into "damn, skunked again!" If you've got a blog on your website you should update it at least once per month.
Another link at their top of all their pages says "Press" which leads to this page: http://www.palasjewelers.com/press.htm
There are 5 offsite links on that page that lead to other websites including INSTOREmag.com, SouthernJewelryNews.com, and JCKonline.com. Sadly, the links leading to INSTORE and to SarahGraham.com are broken.
I read through the linked pages that still worked and I don't think Palas should have the link to JCKOnline.com because it's a Q&A with industry type questions that customers won't be interested in.
On the other hand the editorial on SouthernJewelryNews.com and fenuxe.com would be of interest to website visitors. The first talks about their participation in Bravo's TV show the Real Housewives of Atlanta, and the second explains the gay-friendly atmosphere of the store.
The information in those editorials was certainly well suited for their About Us page.... but wait... I just realized they don't have a link to their About Us page on any of their navigations menus. You can only get to it from the Home page.
What I Liked About the Site:
The more I dug into this site the less I liked about it, but I did find one thing that stood out very nicely in their product catalog. Some of their items have 2 photographs showing different angles, but all of the items in their catalog had links to related items.
In some cases the related items were links to other similar jewelry of the same style, and in other cases there were matching earrings for the pendant or ring I was looking at.
Building a library of related items takes a lot of time and product knowledge, and this effort needs to be commended.
Incorrect SEO Issues:
It certainly looks like they set up some basic SEO on their website. They have unique titles on all their pages, but those titles always repeat "Palas Jewelers |" as the first 16 characters. This will help their ranking for their store name, but it doesn't help to rank them for the actual topic of each page.
I see that they also put a little bit effort into writing Meta Descriptions for their pages. Some of the pages have very brief actual descriptions and some of them are stuffed with keywords. Someone with a fresh point of view should work through every page and write a 150 character description for the pages.
That's it for this week's basic review.
FTC Notice: I randomly choose this website and won't be telling the retailer jeweler that I'm doing a review. Unless someone else tells them, they will only find out about this review if they examine their Google Analytics and Google Webmaster Tools. I'm not doing this to solicit business from them, but rather as an educational exercise for everyone. This review is completely impartial and all my comments are listed in the order that I discovered them.