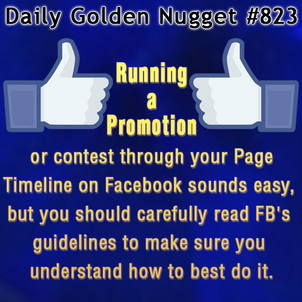 From what I've seen since 2009, the methods of running contests on Facebook have been so difficult and misunderstood that many business gotten themselves into real trouble without even knowing what hit them. People have been locked out of their accounts and pages were deleted all due to guideline violations. Meanwhile other people and pages attracted thousands of fans through the same violated guidelines without so much as a whisper of a scandal.
Contests were the biggest problem. Until recently, you could not run a contest through your own Timeline--a restriction that forced people to create landing page applications to run through Facebook. These applications, or apps as they are now referred as, led to the creation of an entirely new industry of companies that created "app contests." It's pretty lucrative for those app companies, but just another monthly expense for the small business owner.
Sadly, those app contests are usually self-contained within Facebook and once you stop paying for them all that marketing and branding evaporates from cyberspace.
Changes are happening over at Facebook and they've finally decided to allow you to run a contest directly on your Timeline without paying for those 3rd party apps--but some restrictions still apply.
As of August 27, 2013, you are now allowed to run a contest directly on your Page. That's a Business Page, not a Personal Profile. If you're still using a profile for your business then you need to correct that before you start running a contest.
In Facebook's official announcement
they don't use the word "contest" but rather refer to these changes as "promotions."
In short, you can ask people to take action directly on your timeline and then use their engagements as contest entries.
Some example:
1. You would post a message for people to upload their cutest photo to your timeline for other people to Like. The photo with the most likes, wins.
2. You could ask fans to post a photo to your timeline and have them tag themselves. It would have to actually be a photo of them, and they are only allowed to tag themselves. Every person who post a photo could go into a random drawing for a prize.
3. You could post a message and ask people to comment on that post/image. Every person who likes the post and/or comments on it can be entered into a random drawing to win a prize.
4. You could ask your fans to invite their friends to like your page. Every person who likes your page must post a message to your timeline with the name of the person who invited them. The person with the most invited friends will win a prize.
All 4 of those suggestions should sound familiar because pages have been doing that for as long as I've been using Facebook. As I said before, some have gotten themselves into trouble while other got away with it. Now we can all do it without the worry that FB will arbitrarily delete your page.
Now let's talk about the difference between using an app to manage a contest compared to doing it yourself on the Timeline. With a 3rd party paid app you can easily collect all the names of participants because each person is required to fill out a form with their name and email. At the end of the contest, you log in and view the person with the most votes or engagements. Paid apps provide a lot of convenience.
On the other hand, any promotion idea you use in your Timeline will require you to manually keep a tally of participants. I would use Excel to keep a running spreadsheet of user names and their accounts, but you could use anything that's familiar to you. You're going to be doing a lot of copy and pasting from Facebook so this will be easier to tally on a desktop rather than a tablet.
Before you consider running one of these Timeline promotions, you should think about how much time it will take to manage it. Is your time worth more than the price of a 3rd party app? Another thought is that while you are tracking your Timeline activity you will become more personally involved. Your personal involvement will probably result in increased engagements from your fans which could grow into even more engagements than what a standalone app could do.
There are a few other Timeline promotion issues you should be aware of:
1. After posting the initial contest announcement, you should use the "Pin to Top" feature to make sure everyone always sees the promotion. You'll find this hidden under the dropdown arrow that appears in the top right corner of the post when you hover over it.
2. You can't ask people to share things to their own Timeline. Everything needs to be self contained on your Page's Timeline. Facebook's announcement explains that they don't want personal Timelines to be cluttered and that many personal profiles are locked, which doesn't actually benefit you.
3. Notifying the winner is going to be tricky. A Business Page is not allowed to directly message a Fan. BEWARE: When you attempt to send a message it will actually send that message from your personal account. If you do decide to send the message anyway, it will be hidden inside the winner's "Other" inbox, which might as well be Cyber-Siberia--They'll never see it. Without a 3rd party app to collect email addresses, the best method to announce the winner is directly on your Timeline.
Overall I'm glad to see these policy changes and I hope more jewelers start to take advantage of them. With this announcement, Facebook actually said they wanted to "align our policies to better meet the needs of marketers," which for once means they are making changes to help businesses rather than everyday users.