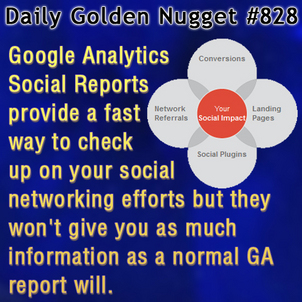 Google Analytics provide an easy to use report of all the online social activity that brings people to your website. Today I'm going to briefly explain this report.
Log into your Google Analytics account and in the left column navigate over to Traffic Sources > Social > Overview.
This screen will show you many different social networking websites that have brought visitors to your site. The social networks you might find listed on this page include Facebook, Google+, Yelp, Pinterest, LinkedIn, Yahoo! Answers, Tumblr, Twitter, and YouTube. That's not an exhaustive list, only the popular ones I've seen.
When you click on the name of the social network, Facebook for example, you will see your domain name along with the number of visitors, average visit duration, and the number of pages those visitors looked at.
You can click on the name of each social network and drill down into the information. Each network will show you different information, some more useful than others. The reports for Pinterest and LinkedIn will show you the actual URL that led visitors to your site whereas Facebook, Google+, and Twitter are actually useless for that type of backtracking.
Speaking of backtracking, you'll find another report under the Social section called Trackbacks. This report will show you a list of the found blogging websites that have links to your site. You might see news sites on this report and you will see links from your offsite blog if you have one.
The Trackback report will show the blog that links to you and the page on the site they are linking to. It will also show the number of people who clicked that link during the reporting period. It's important to note that this Trackback report only shows the newly discovered blog pages from the reporting period.
Normally Google Analytics doesn't report on 0 visits, but this Trackback report will show the blog found and 0 visits if no one clicked on that link during the reporting period.
As I said, this is a basic introduction into these reports and there's a lot more information I'm not getting into right now.
How is this useful though?
You will probably find the Overview report and the Network Referrals report to be the most useful for you. The social network referral information has always been available inside the normal Traffic Sources > Sources report, but these social reports allow you to get to the information a lot faster.
You can use these reports as a spot check to see how your social network efforts are working. Don't fret if the reports are blank; instead just look into your regular traffic referral reports for individual social network names.
Certainly, the Trackback report is interesting because that will show you blogs that link to you even if the visitor doesn't click. This is similar to the "Who's linking to you" report in Google Webmaster Tools, but a little more sophisticated.
The one thing all these social reports are missing is the Bounce Rate. Just because the report shows lots of people are coming to you website that doesn't mean that they are staying very long. In order to see the bounce rates, you will have to go back to the Traffic Sources > Sources > Referrals report.
Those of you active on social networks should see some interesting data within the Social reports. I'm hoping they become more useful over time.