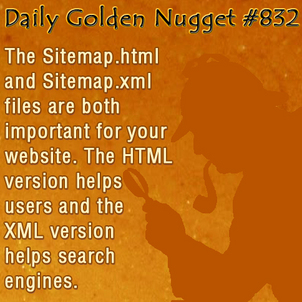 A review of past Nugget topics has revealed that I've never specifically talked about the different types of Sitemap pages you can have on your website and what their uses are.
In the early days of the internet, the
sitemap page
was one of the simple methods of linking all your pages together. Sitemap pages became more important as websites grew and larger companies figured out how to divide up their content between subsections of their site. The sitemap page gave visitors a fast way to jump from one area of a website to another without trying to figure out how the navigation worked.
Of course as website designers learned from their mistakes, the navigation process became easier. The sitemap page, made up with links to every page of the site, seemed to become useless.
Even though it might seem trivial, having a "sitemap" as a link in the footer of your website can still help users. With a simple list of links to every page of your website, the sitemap is akin to the index at the end of any good book of multiple topics.
Even though a retail jeweler's website might have a few pages, and all of them are accessible through the normal navigation, the sitemap page is still important. Many good content management systems (CMS) will have easy ways to generate a list of links to all the pages on the site.
Depending on the CMS you are using your sitemap file name could be:
sitemap.html
sitemap.htm
sitemap.php
sitemap.asp
sitemap.aspx
sitemap.tpl
sitemap.dna
... and this list could be endless.
Every one of those file extensions represents a different type of website programming language and I've only listed a few common ones.
The one sitemap I left out of that list is the filename sitemap.xml, which is actually a very special type which people won't usually find on a website, but rather, it's hidden from normal view so only search engines will read it.
The real difference between the html/php/asp version and the xml version is that the xml truly will have a list of all the important files on your website. This will include all the content pages, all the
canonical
links to products, all your PDFs, your videos, sound files (podcasts), and maybe even your images.
Everything that has a potential value to improve business should be included in the sitemap.xml, and that's a lot more than just a list of links that match your normal navigation.
Google and Bing do a really good job at spidering your website to find your pages, but there's a limit to how deeply they will crawl into your website to find everything. One of the reports inside Google Webmaster Tools actually shows you how many pages the Google spider will crawl. Sometimes it's not a lot even though you have hundreds of pages on your site.
Creating the sitemap.xml helps Google find all the important stuff on your website that their automated system might not find on its own. Most people think that the sitemap.xml file only includes all the html pages of your website. If you google "how to create a sitemap.xml" you will find plenty of free websites that will generate a simple sitemap.xml file for you.
Most of those automated methods will crawl through your website and create the xml sitemap using your pages and URLs, but they won't typically create a list of all your product detail pages, images, PDFs, videos, or podcasts. You're going to have to read through some directions on manually creating a sitemap or get help from a web programmer if you want to include multi-media files in your sitemap.
Whew! Well, once the sitemap.xml file is created, you can just leave it on your website for Google and Bing to find, or you can refer back to
this previous nugget
for some tips on submitting the sitemap.xml file to them.
Submitting a sitemap does not guarantee that your website or those pages will be indexed and appear in search. The primary use of this is to make sure Google finds all the pages and files you want it to find rather than relying on their automated system.