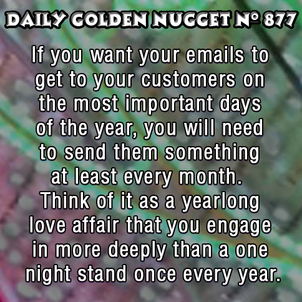 According to a report from the National Retail Federation, the number of Americans out shopping during this past weekend was up from 139 million in 2012 to 141 million this year. However, the average amount of money each person spent was down from $423.55 last year to $407.02 this year.
Yesterday, December 2, 2013, was Cyber Monday. This "special" day is designated as the day when Americans replace their weekend shopping with shopping online. This trend started way back for as long as there were e-commerce websites and eventually the term "Cyber Monday" was coined.
Just like Black Friday is supposed to be the one day of the season for really good special in-store deals, Cyber Monday is supposed to be the one day of the season for really good online deals. Internet savvy shoppers expect it and they will wait until Cyber Monday to make their different online purchases.
You don't have to give the store away on Black Friday or Cyber Monday; just have a few deals that won't be offered any other time of the season.
Let's take another look at some of the emails I've received from retail jewelers who advertised Cyber Monday specials on their website...
Gemvara
Sunday's Email Subject: "Hurry - Our Best Deal Of the Season Ends Tonight"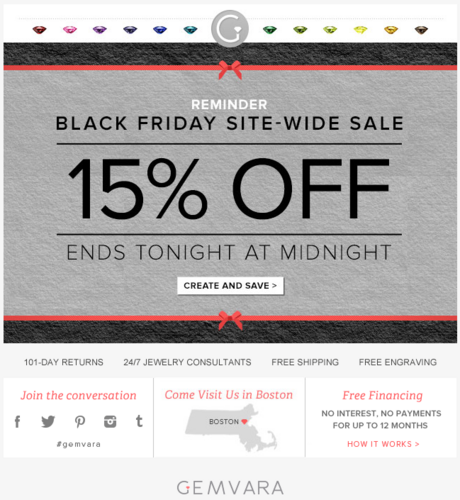 This email attempts to create some urgency because the 15% discount was about to end. But the savvy online shopper certainly suspected, like I did, that there would be some other special offer on Monday.
Sure enough, this was the subject of Monday's email:
"Our Best Deal - Extended for Cyber Monday Only"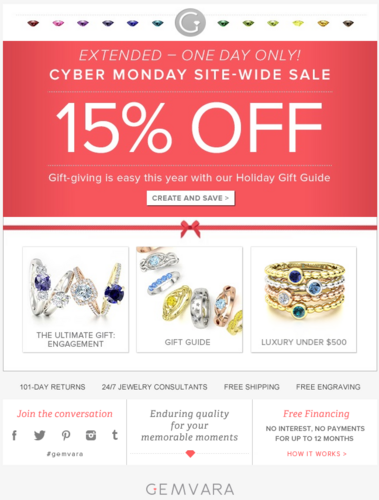 Perhaps since Gemvara is only an online company, they feel they have a limitation on how they can advertise online. Personally, I didn't fall for their Sunday marketing ploy to create a false sense of urgency when they were obviously planning the same promotion for Cyber Monday.
Skatell's Jewelers
Here's an aggressive email marketing campaign that would have worked better if they paid more attention to their email list. I signed up for Skatell's email list in July 2012 (yes--that's July of last year), but I didn't get my first email from them until November 21, 2012 when they announced their Black Friday offer of 30% off in their store. Then they sent me an email for Cyber Monday 2012 with a 20% savings when buying for their website only.
I didn't get a single email from them in December 2012. In fact, I didn't get ANY emails from them for an entire year until they decided to break their silence on Tuesday, November 26, 2013 to announce their Black Friday Sale.
Then they emailed on the 27th to announce their Friday Doorbusters.
Then they emailed on the 29th at 8am to remind me about their Doorbusters.
Then they emailed on the 29th at 12:30pm to remind me about their Black Friday Sale.
Then they emailed on the 30th at 8am again to tell me it was Small Business Saturday.
And finally, they emailed on December 1st at 3pm to tell me they would have a Cyber Monday sale.
That's 6 emails over 6 days from someone I haven't heard from in a full 12 months. I've included all their emails below so you can review them yourself. They are actually good ads; certainly they're a night-and-day difference than the 2 emails from last year, but geesh, 6 emails?
Here's a clue how email marketing should work... Send at least 1 email every month. Send something. Anything. Just don't send a barrage of emails when it's timely to promote your store.
Why? So many reasons...
Rapid fire emails like this can get you tagged as a spammer. Customers who haven't thought about you for 12 months won't care about your emails. Customers who don't even remember you, will delete your emails without reading them. Customers who overly protect their email addresses might not remember how they got on your email list and they will unsubscribe and complain about you.
Bottom line is that Skatell's has a good approach, but only companies that already send out multiple emails per week will get away with this aggressive strategy.
That's it for today, here's the screen shots of the Skatell's emails...
Skatell's Jewelers November 26, 2013 email
Email Subject: Exciting Black Friday Offer from Skatell's Jewelers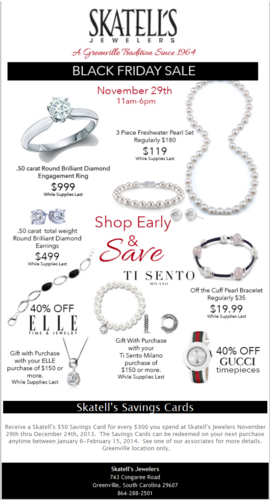 Skatell's Jewelers November 27, 2013 email
Email Subject: Doorbuster Savings Friday 9am-11am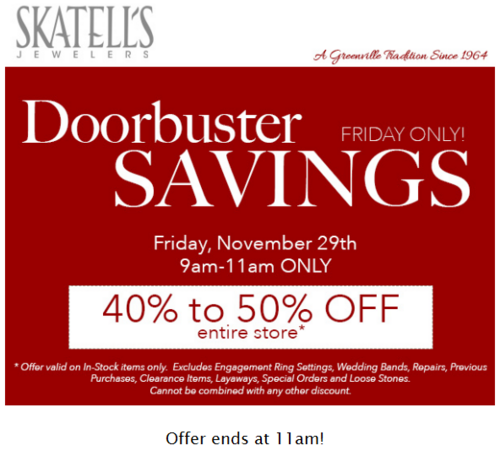 Skatell's Jewelers November 29, 2013 email
Email Subject: Doorbuster Savings TODAY 9am-11am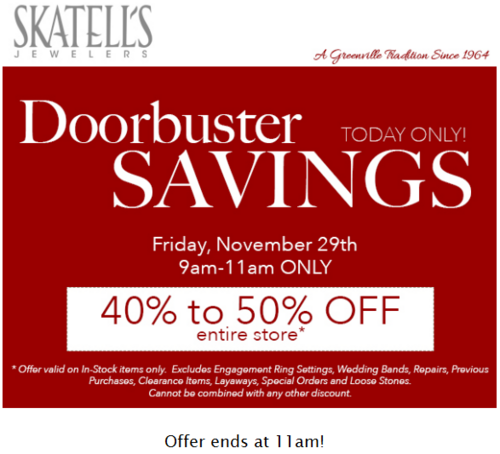 Skatell's Jewelers November 29, 2013 email #2
Email Subject: Black Friday Sale Going on Now at Skatell's Jewelers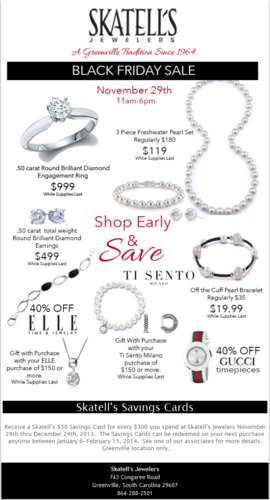 Skatell's Jewelers November 30, 2013 email
Email Subject: Store Wide Savings for Small Business Saturday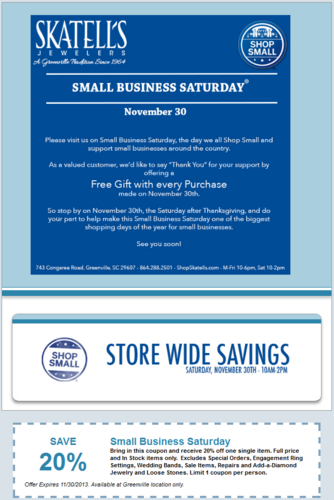 Skatell's Jewelers December 1, 2013 email
Email Subject: Cyber Monday SALE