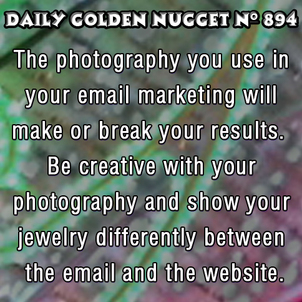 I'd like to officially close out the 2013 Holiday Season with one last review of a few emails I've been tracking. I've lost count with how many email newsletters I've joined since I started tracking this in 2011, but I know it's more than 200 retail jewelers all over the world and in multiple languages.
Some jewelry stores have a regular routine of sending email newsletters for many reasons other than sales or promotional offers, while others only send emails when they want to sell me something.
On Monday and Tuesday this week there were 4 emails wishing me Happy Holidays.
There were 13 emails between Sunday and Tuesday that offered some type of "Last Minute" or "Final Day" offer.
There were also 44 emails between Friday and Tuesday with subject lines that promised Christmas delivery if you ordered in time for their shipping deadline. My favorite was the one that offered "Santa-Speed Delivery."
So of the 200+ lists I'm on let me look back on how many emails I received over this last weekend:
49 emails on Wednesday, December 18, 2013
38 emails on Thursday, December 19, 2013
49 emails on Friday, December 20, 2013
27 emails on Saturday, December 21, 2013
26 emails on Sunday, December 22, 2013
34 emails on Monday, December 23, 2013
Many of these emails were offering 25% off or some type of shipping offer.
This one from John Green Jewellery in the UK offered free Christmas delivery guaranteed. Click on the image to see it larger...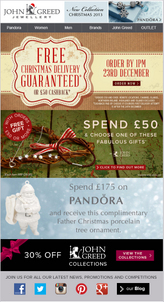 Their email also offered a free gift if you spend £50 or more. Although the photo in the email was attractive, it should have been a closer shot of the jewelry. I didn't actually realize what I was looking at until I clicked on the email and landed on this page: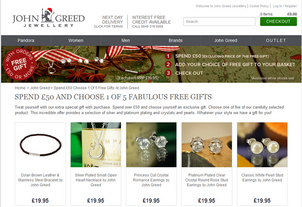 (click on the image to make it larger)
They obviously have good experience with photography. The header of that website has a similar, but different, editorial shot as the email. Each of the 5 potential free gift choices are also shot differently so you can appreciate them more.
Overall, they have good photography; I just feel they lost attention of their email recipients by not having more clearly visible jewelry in the email.
I receive a lot of emails from GoldenMine.com. In their December 20, 2013 email they wanted to make it extremely clear what their last minute shipping situation was by sending this email with an easy to read calendar.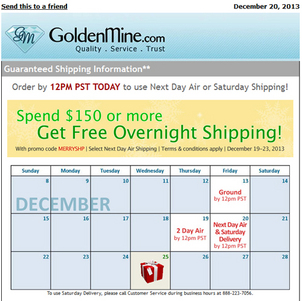 I've chosen to only show the top part of the Golden Mine email, but it was much longer and it had several last minute jewelry gift ideas at the bottom.
The last email I want to show you is from MyJewelryBox.com. This email came to me on December 20, 2013 at 11am Eastern time. You can click this image to make it larger...

I prefer the larger jewelry photography in the emails. Clicking each of the 4 items in the email you're your directly to the product detail page for that item. Take a very close look at how each jewelry item is nicely blended with the brown color background of the email; you might even notice the jewelry reflection in email.
Clicking on the first item brought me to this page: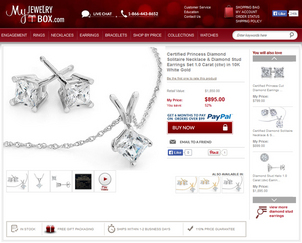 Comparing the email and the webpage closely you will realize that the jewelry photography is the same. I'll assume they have a PhotoShop file for each jewelry item saved with a transparent background. This would then allow them the flexibility to creatively change the background for their different marketing campaigns.
Their photography is extremely high quality, and that process of stripping the background out of each photo can sometimes take more than an hour per item, especially with link chains like that one.
In conclusion, each of the emails I reported on this season had a few people working on them. The best email campaigns are produced by a team of people, even if it's a team of two. You always need someone to double check your work.