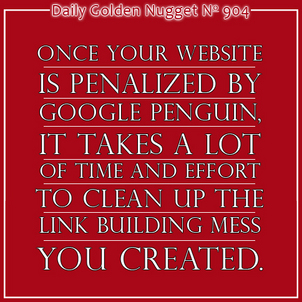 In yesterday's Daily Golden Nugget I explained how you could
check for, and recover from Google Panda
. Today I'll explain the same process for Google Penguin.
As a reminder, Google Penguin is a filter that Google created to detect when your website has too many unnatural links pointing to it. The key word there is "unnatural."
Google's original method of ranking websites was to count the number of pages that were linking to it. They were founded on a specific method to give different measurable value to websites and calculate a PageRank number from 0 to 10. The higher your page rank, the better your website would rank in their SERPs.
Initially, it was thought that people would legitimately link to a website if they wanted to share it with their readers. Most of that sharing takes place through social networks now, but back then every share link on a website page was like gold.
Since the early 2000's, several link-building companies started up with the idea that they could provide easy link building services. For a onetime fee of $97 or so, they would guarantee you
backlinks
on hundreds of web pages. Some of the services were charging $49 per month.
It was simple for them to provide this service because they registered many domain names and set up the same looking website for each domain. Sometimes they changed the colors of the website but kept the look otherwise the same.
Here are two examples:
http://www.web-directory-plus.com/
http://www.estateaddurl.com/
Those two websites are owned by the company Imperial Directory Network. They claim to have 331 directories at the time I wrote this. Here's their list:
http://www.imperialdirectory.com/OurNetwork/sample
It was companies like these that started to make a lot of money by continually adding new domain names to their list. They figured out how to game Google's system, and the search results really started to suffer.
Google considered this type of link building to be "link spam," and it really is. But small business owners who knew about Google's PageRank were desperately trying to find fast ways to get to the top of results. Those onetime fees of $97 were very attractive, and the process worked for many years.
It took a long time for Google to figure out how to combat this type of link spam. But they finally did.
Through 2012 and 2013 Google used the Penguin Filter to improve their search results. It's
reported
that the filters were applied on these dates...
Google Penguin Filter Updates
April 24, 2012
May 26, 2012
October 5, 2012
May 22, 2013
October 4, 2013
There are two ways to know if you've been affected by the Penguin Filter:
1. Cross reference the above dates with your Analytics. Any dip in visitor traffic on those above listed dates means you were penalized.
2. Admit that you previously paid for link building services.
Unlike the
Panda cleanup
I explained yesterday, recovering from a Penguin penalty is a lot harder.
Recovering from a Penguin penalty requires that you have the majority of the spammy links pointing to your website removed.
It was easy to pay one company a mere $97 to set up a few hundred, or even thousands of links. Getting them removed takes a lot more time.
Based on my own experience, here's how the process works.
1. Try to figure out all the backlinks pointing to your site
This is not easy. You can start with downloading the list of links that Google Webmaster tools gives you. But that list will be grossly understated. I recently downloaded a list of 1500 links from Webmaster tools, but then paid MajesticSEO for their list. MajesticSEO reported more than 20,000 links.
Make sure you request both the "fresh" and the "historical" list of links from MajesticSEO. You might also want to get a link list from SEOmoz.
2. Differentiate between real links and bad
You can use Excel to organize the list of links. First, look for everything that you immediately recognize as real. This could include links from other websites you own, local chambers of commerce, networking groups, and forums that you legitimately participate in. Remove those links from the list.
Because those link building services own hundreds of website, it's very unlikely that you will be able to tell the difference between a legitimate link and a bad one. So the next step is to visit the actual web page where your link in to determine if it's spam or not.
Even with a full time employee work on this, this process takes months. Literally.
3. Find the contact information for the website owner
Ever since Google Penguin first came about, the companies that engaged in the spammy link building schemes are getting are getting inundated with link removal requests. I imaging that they are completely overwhelmed.
To lower the deluge of requests, many of these link building networks have removed their contact information from all their websites. I've seen many websites where their Contact page was deleted along with their Services page, and Privacy Policy.
Most of the time you have to use a domain name
WHOIS
search to find out who the owner is, and get their email address.
4. Send a link removal request to the website owner found
This becomes the frustration part of the process. You have to send an email to the website owner. You could also use their online contact form if they still have it up.
In that email you should give them the confirmed URL of the page with the link to your website, and a nice request to remove it. Remember that they are probably getting a lot of these requests every day, so be cordial in your request.
Sadly, there are owners of link building networks out there with very bad attitudes. As an example, Rohan Kumar, with the email address webdirectoriess@gmail.com, owns a few thousand websites. The site centraldir.net is part of his spammy network.
Sending an email request to him is utterly useless. The "terms" on all his website (no doubt updates after Penguin started) say he will charge $5 for the removal of every link, with instructions not to use his directory if you don't agree to those terms.
From my point of view he made a lot of money setting up those directories, and now he's making even more money with the removal of the links.
My advice is to proceed to step 5 when you come across that email address.
5. Use Google's disavow tool to remove links you can't remove
Google has a tool to disavow links that you can't control. Here's the URL:
https://www.google.com/webmasters/tools/disavow-links-main
You can use this tool to disavow links only if the website owners do not reply to your requests.
That was important, so let me say it again... The disavow tool should ONLY be used after you legitimately try to have the links removed.
It's very likely that the Penguin penalty will remain in place if you simply try to disavow all the links pointing to your website, without putting any work into the process.
The directions for the disavow tool say you should follow their format to create a text file with the list of links to remove.
Pro Tip: Don't bother including the actual links. Just disavow the entire domain name.
6. Document your work
You need to document your entire journey through the link removal process. Assuming you used an Excel sheet to organize the links, you should continue taking notes in that same excel sheet.
Required notes include:
* email address of the website owner you tried contacting
* the date of each link removal request you sent via email
* the date they replied, if they did
* the date they removed the link, if they did
* identify the links that were removed successfully
* the URL of the contact form, if you used a contact form instead of sending them an email
* indicate the links that you disavowed
You can work on this Excel file on your personal computer, but eventually you need to upload it to Google Docs so you can submit it to Google as proof of your work.
7. Recheck the links
You work is not over until you recheck, and repeat it.
From what I can tell, Google won't let you fix the problem easily. Everyone who engaged in spammy link building created a huge problem for Google, and it took them a lot of money to figure out how to solve the problem.
From my point of view, now they are making you pay for it. If you engaged in spammy link building they won't let you take the easy road to fixing it. Like I said, you can't just disavow all the bad links.
According to a live Google Partner presentation I attended with Google Link Spam team, they said they look to see if you successfully removed a percentage of the links they had on record. I don't know what that percentage is because they didn't tell us.
What this means is that you have to send an email to the spammy website owners. Wait for a reply. Then recheck the website to see if they removed the link. If they don't reply after 3 weeks, you should resend your request.
Yeah, 3 weeks. That's why this process takes so long.
If they don't reply a second time you could try again, maybe only waiting 2 weeks.
If you have no luck after 3 or 4 months, you can add them to the disavow list.
Pro Tip: Remember what I said above about webdirectoriess@gmail.com. You won't get a reply from him, and if you do it will be a request for $5. So just put him on the disavow list and save yourself the aggravation.
8. Send a reconsideration request to Google
This step is where some people get confused. The Google Penguin Filter is an algorithmic process that was built into search results.
A reconsideration request will be useless to you if your Analytics show a decline in website traffic immediately following one of the 5 Penguin Update dates above. Traffic changes around those dates indicate that an automated process penalized you.
Assuming you clean up enough links, and disavow the rest, then the same automated process will put you back into the search results again after the next Penguin update.
The only people who have to submit a reconsideration request are those who see a "Manual Action" in their Google Webmaster Tools account. This is the link to the manual action screen:
https://www.google.com/webmasters/tools/manual-action
Here's two screen shots of messages:

(click image to view larger)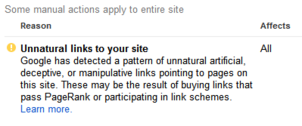 (click image to view larger)
These types of messages mean that an employee at Google noticed your spammy link building and they manually penalized you for your bad behavior.
When a manual penalty exists, and only after you've gone through the above 7 steps, then you can submit a reconsideration request here:
https://www.google.com/webmasters/tools/reconsideration
Google wants you to be honest in your reconsideration request. You can't accuse someone else of wrong doing, and you can't tell them you didn't know what was going on with your website.
They'd rather hear you admit that you previously paid a company to build links for you and that you were aware that the practice was spammy.
You also need to upload your Excel documentation file to your Google Drive and include the shared link with the reconsideration.
You'll have to periodically check back into your Webmaster Tools account for their reply.
If they deny your reconsideration, then you have to go back over all our work. There might be something wrong if you honestly worked through all the links, requested removal a few times, got them removed, and disavowed the rest.
There might be more links out there that MajesticSEO didn't report to you. Did you use the full list of "fresh" and "historical" links from MajesticSEO? Did you get the links from SEOmoz?
I have painfully discovered that all these backlink reporting services seem to provide different sets of links over several months. Google has a master list of links that they compare your work against. If you have 20,000 links from MajesticSEO, Google might have a list of 40,000 more that you might never know about.
Another possibility is to take another look at the original backlink list and reconsider any of the links you originally deemed real.
One final thought. Unlike Google Panda where you can delete all the pages on your website and start over with fresh content, the inbound links from spammy sites can't be removed that way. Your website will remain penalized until you go through the arduous process explained above.
The other alternative is to delete your website and buy a new domain name.
UPDATE: 2014 May 19
I've had 2 comments below so far and 1 more direct email from another reader detailing their experience with Rohan Kumar and webdirectoriess@gmail.com. Please take the advice explained in Step 5 and simply disavow all the domain names showing ownership or involvement with him.