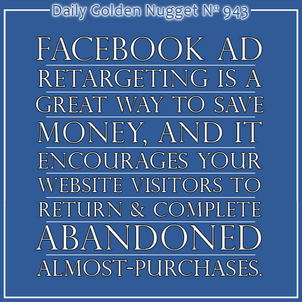 A few years ago, Google AdWords created a feature called Remarketing that allows you to secretly tag a website visitor so you can target them with a specific ad in the future. The premise behind the marketing method is that a customer will likely return to your website if they see an ad that reminds them to.
When designed correctly, those ads would understand what you looked at on the website then show you a corresponding ad on Google search or other content websites. When using this type of marketing, you'll find that it's always easier to get repeat visitors than first-time visitors.
In June 2012, Facebook introduced their own advertising system similar to AdWords. They call it the Ad Exchange, or FBX for short. They allow you to pay for general ads, but they also have their own version of Remarketing that they call "retargeting." This retargeting allows you to show ads to users based on their past browsing of your website.
These retargeting methods in both AdWords and FBX will save you a lot of advertising money if used correctly. But there's a difference between using retargeting with an e-commerce website compared to a website that doesn't sell directly online.
If you don't sell online then you might want to limit your retargeted ads so they only appear to people within driving distance of your store. But if you do have e-commerce, you could open those retargeted ads to anyone you are willing to ship to.
For an e-commerce website, you could tag someone so accurately that they only see an ad for the specific product they viewed while on your site. This specific product retargeting will keep your product at the top of their thinking until they come back and make the purchase.
I was recently in the market for the Eye-Fi camera card for my Cannon T3i. This camera card allows you to take photos on your DSLR camera and immediately transfer them to your smartphone. It makes social sharing a snap, but there are also a ton of other uses.
To find out more about the product I first visited the Eye-Fi website at http://www.eye.fi/. Then I googled where to buy it and look at the price on Amazon.com and then BHPhotoVideo.com.
Here's the screen shots from Amazon and B&H: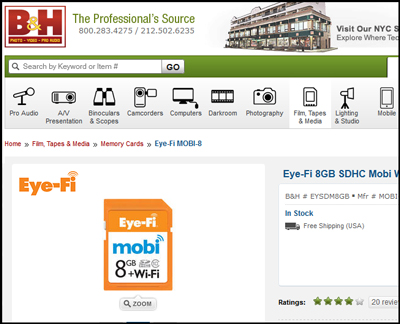 I'm a loyal customer of B&H Photo Video. They are located in NYC and I've purchased from their website and in person many times. Amazon and B&H had the same price, and the same free shipping offer for the purchase of the same card. I assumed I'd get the card faster from B&H so I ordered it from them.
Within minutes of looking at those three websites, I started seeing these ads on Facebook: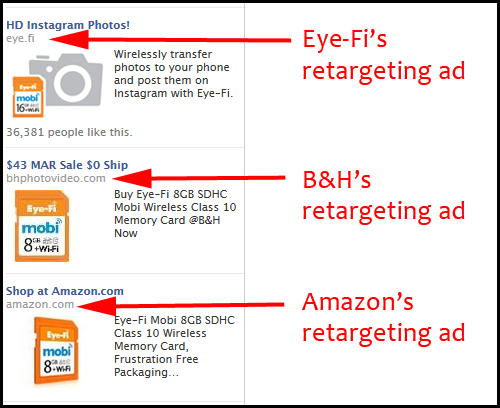 I'm showing the 3 ads above stacked, but truthfully I never saw all 3 ads at the same time (Thank God!), but I was seeing at least 2 of them at a time, and I'm still seeing them with every screen refresh even though it's been 10 days since I first looked up the Eye-Fi card.
When this happens to you, you could always click the X in the top right corner of the ad to cancel the retargeting... well, it's suppose to cancel the retargeting. In the past I've X'd other ads, but they just reappeared within a day.
If the ads weren't already enough, I saw retargeting ads in the News Feed like this: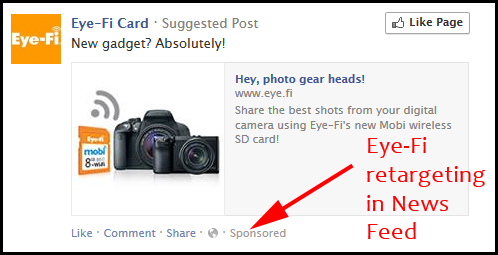 That's not so bad until you also see it appearing like this: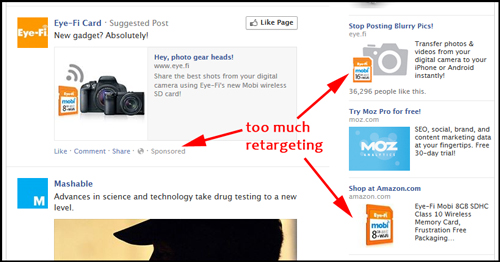 The Eye-Fi company will make the sale no matter which ad is successful. Sadly, there's no way for the 3 companies to know that I'm being ratargeted by all 3 of them at the same time. The bright orange SD card makes the retargeting situation extremely obvious, and it certainly appears as a flaw in the FBX system that needs to get fixed somehow. (Any FB developers reading this? How about a product database system that remarketers can tap in to. They you can have these 3 companies convert over to a real-time bidding + remarketing method.)
Even though there are 3 companies trying to get my attention, there should only be 2. You see, I actually made the e-commerce purchase from B&H, so their website should have un-tagged me from the Facebook retargeting.
This leads me to an important point about Facebook Retargeting and Google AdWords Remarketing--always take that extra step in your setup to ensure users are removed from your retargeting product ad campaigns after they have purchased that product.
Apparently, B&H Photo Video didn't set up their online marketing campaign correctly. Part of good e-commerce customer service is quick email response times, live chat, and even telephone calls.
One of the worst e-commerce customer service situations is when you continually show ads to people who have already purchased your product. This becomes very annoying and can tarnish your online brand identify.
Both Google AdWords Remarketing and Facebook Ad Exchange Retargeting are tricky to set up. You will probably need the combined efforts of an ad agency and your website programmer, but remember, the overall advertising cost will be much lower once it's up and running correctly.