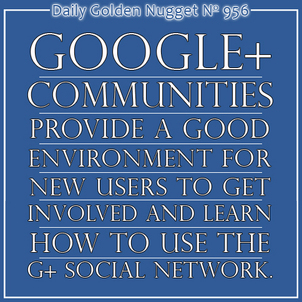 This is the Monday Google+ edition of the Daily Golden Nugget. Today, I'd like to introduce the Google+ Communities, what they are, how and why to get involved, and eventually what you could do with them yourself.
The Google+ Communities give you an easy way to find other people with similar interests. There are thousands of communities on a many topics, and even multiple communities on the same or similar topics.
Joining one of the communities is like joining a networking group. You should only join if you plan on participating. Admittedly, you can join an online community and watch how other people participate before posting, but you will miss out on many of the social benefits if you keep quiet.
To get started with communities, you must first log into your Google+ account, click on the Home button on the top left of your Google+ screen, then click the menu option for Communities as shown here: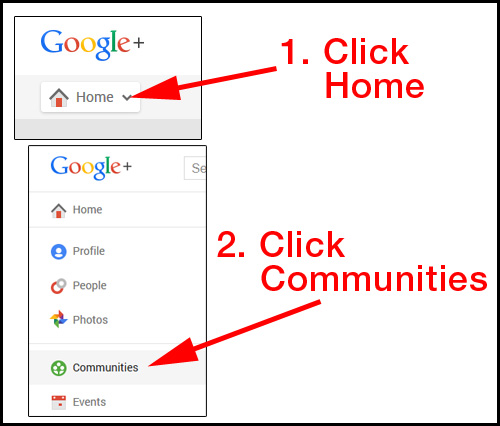 This is the screen you'll see the first time you look at the +Communities: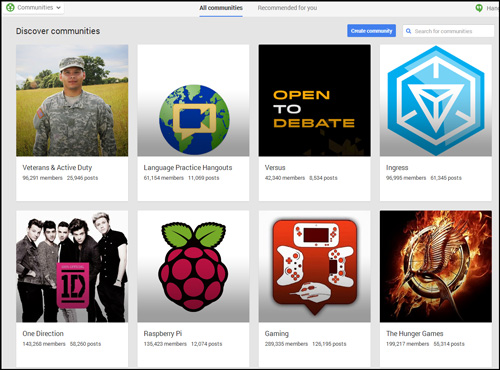 That screen shot shows a wide variety of communities ranging from veterans, music, gaming, and computer hardware design.
You should search for your own areas of interest using this search box in the top right corner:

There are several jewelry communities that you can find when searching for "jewelry." Look at them carefully before joining one. Here's a screen shot of some of the jewelry communities: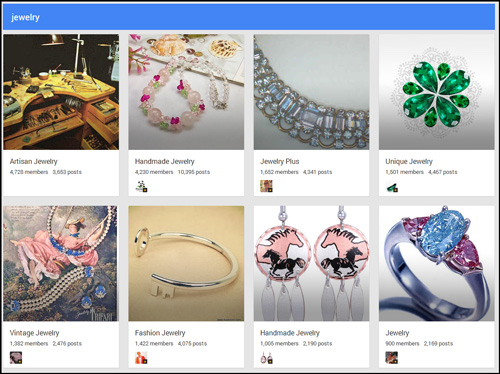 I find that most of the jewelry communities were started with the idea to attract jewelry buyers, or to facilitate networking amongst jewelry designers, but most of them have devolved into sharing of jewelry for sale.
I don't see a lot of consumer involvement in the existing jewelry communities, and it seems like several jewelers and jewelry designers posting without understanding that they are foolishly trying to sell to one another.
On the other hand, if you are a retail store looking for a new designer line, you certainly could find several of them within the Google+ Communities.
Although you can make connections with new jewelry designers through Google+ Communities, a retail jewelry store won't be able to sell directly through them. As I said, the Communities are like networking groups. You only join them to network with other people, share your experience of the topic, and create those personal connections.
Communities are really not suitable for selling, that's what your Google+ Business Page would be for.
Perhaps one of the best uses for the Google+ Communities is the ability to ask a question. Someone in the community might know the answer. Trying to locate the long lost designer of an old jewelry design? Post a photo and ask the community. Looking for opinions on something you are working on? Post a photo and ask the community. Need to know if someone has ever had experience with a particular industry vendor? Ask the community.
Don't limit your involvement with the Google+ Communities to work only. Search for a few of your personal interests to see what's out there. For those of you with highly passionate interests there are communities for cats, cars, politics, and religion. There are also enjoyable communities for photography, travel, and knitting. Involvement in these different communities will help you make more social connections on Google+. Just like regular in-person networking, those personal connections can eventually lead to a business relationship.
By default, when you first join a community you will receive a notification every time there's a new post to that community. I suggest that you leave the notification settings turned on for the first few days after you join a community. This will allow you to fully experience all the activity, and find out if that community is truly for you.
Unless you've changed your settings in your Google+ account, the community notifications will come to you as emails and as push notifications to your smartphone. Be aware that the communities with more than 1000 members might result in non-stop smartphone push notifications.
The Google+ Communities are another area of Google+ designed to get you interested and involved. You don't have to use them at all, but they do provide a good environment for new Google+ users to get involved and learn how to use this social network.