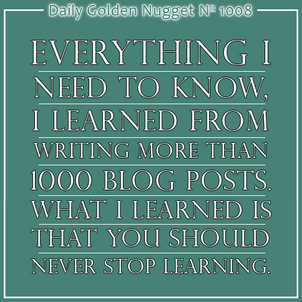 Blogging is a method of online marketing, but it also has many other personal and business benefits. When I started blogging 4 years ago, it was partially because jWAG was a paid subscription education service and partially because I honestly just had the desire to do it. About a year later, it was decided to deactivate the subscription portal and turn jWAG into a philanthropic endeavor.
I now find it much more enjoyable to write blog posts because I want to rather than because I have paid subscribers that I am obligated to work for. But still, producing a daily blog for this long has taught me a lot about business, myself, the jewelry industry that I write for, research methods, organization, and commitment.
To help you get started on your own blogging journey, I sat down to write some of the things I've learned from blogging. I wanted to give you a short numbered list of how you can make your own blogging process better based on the things I had to learn.
That "short" list turned out to be way too long. 3800 words later I realized I covered these 7 topics:
*
Content Tips
(this one)
*
Managing Your Blogging Ideas
*
Writing Tips
*
Editing
*
Attracting an Audience
*
Organization Strategy
*
Search Engine Optimization
In the spirit of shorter, actual "nuggets of information" I'm splitting this up over 7 days.
Here now are my 9 tips I've learned about Content
after writing more than 1000 blog posts:
Did you just have a great conversation with a customer? Blog about it.



Did you just have a frustrating conversation with a customer who didn't understand something about diamonds? Even though you may've lost that customer, you should write an educational blog that could have helped that customer if they had read it. Don't get frustrated with the next customer who doesn't understand diamonds; instead, show them that "pre-existing" blog post instead.



You don't always have to write about products or services; you should frequently write about your personal experiences and how they relate to your products or services. For example, your last visit to a trade show, the hotel, the airport, and the conference itself.



Anecdotal storytelling is always a good way for readers enjoy what you are writing, and learn something at the same time.



You might not be able to develop every idea into a fully developed blog post. Sometimes ideas just fall flat after 4 sentences. Don't stress trying to figure out how to further develop them. Keep those 4 sentences for a later date and start on your next idea.



Every fully developed blog post might not get published. Even though I have published 1007 Nugget blogs so far, I've actually written a few that never got published. They were "stuck in a drawer" because I decided they weren't appropriate for the time, or my editor didn't like the topic.



You will eventually learn what types of topics your audience responds well to, and the topics they don't care about at all. Don't be disheartened if your audience doesn't like what you like most. You can't please everyone. You know you have pieces in your showcase that no one loves more than you; you'll still point them out to everyone while also indulging them with what they do like.



You can create a highly focused blog on a single topic, like diamond jewelry or sapphire jewelry. This tactic will eventually attract a more defined audience of readers who like those things.



Highly focused blogs might be bad for your overall marketing campaign. Your blog has the power to support the rest of your marketing, but if you only blog about sapphires, don't bother to advertise your blog in your next advertising campaign about diamonds.