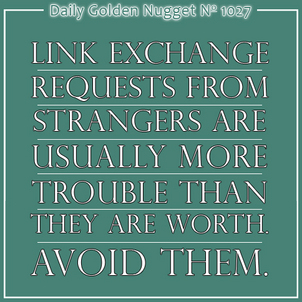 In this edition of the Daily Golden Nugget, I'm going to show you how to analyze, and why you should avoid link exchanges that are offered to you.
Over the last few weeks, one of my customers has been receiving this email through the contact form on their website:
"Dear Webmaster,
I'm the webmaster of http://beyond4cs.com/
Not too long ago, we came across your site http://www.(obfuscated).com/ on the Internet and feel that it would fit perfectly into our collection of quality jewelry-related links. A reciprocal link request email had been sent earlier and there was no reply received. However, due to your busy schedule, that email could have been overlooked.
Beyond4Cs.com is a website that provides a free resource for would-be diamond shoppers to get educated on the process. We wish to provide our site visitors with more relevant content and interesting information by listing useful resources in our directory. We believe that a link partnership between us will be beneficial to the both of us.
To show our sincerity in this partnership, we've already placed a link to your web site along with a description at our site on the page, which we encourage you to check for accuracy. You can see your link here:
http://smartjewelryshopper.com/Resources/Jewelry-Stores.html
If there is any problems with missing links or corrections, pls reply to this email and I will personally address any issues/problems with my programmer.
We'd appreciate it if you place a link back to our site using the following HTML code (just copy and paste it into your links page)
http://beyond4cs.com/Beyond4Cs.com
- Informational resource that teaches you everything you need to know about clarity of diamonds - with pictures and diamond examples.
On your page, the code will look like this:
Beyond4Cs.com - Informational resource that teaches you everything you need to know about clarity of diamonds - with pictures and diamond examples.
OR use the following details for our backlink;
Anchor/Title - Beyond4Cs.com
Site url - http://beyond4cs.com/
Description - Informational resource that teaches you everything you need to know about clarity of diamonds - with pictures and diamond examples.
While the above code is recommended by us, you should feel free to use your website's own formatting or method of linking out that best suit you.
If you'd like the description of your site modified, the category changed, or if you have any other cross-promotion ideas or guest blogging opportunities, please feel free to email us.
Please link to us using the code above, and let us know where we can find the link to Beyond 4Cs.
Best regards,
Paul Gian
This is more than the typical link exchange solicitation. The offer is pretty compelling and it seems to make a lot of sense to link your jewelry website to this website. However, before accepting any offer like this, you need to stop and think about why they are making the offer.
Despite what you might think, nothing is free on the internet. Everyone always has an angle, and no one is going to do things for you for free. Even I have an angle with these free Daily Golden Nuggets, in that they help to build my reputation as a for-hire expert in my field.
Let me break this down...
First, let's look at the website that they offered to put the link on. This is the page:
http://smartjewelryshopper.com/Resources/Jewelry-Stores.html
This is the full web page capture below. It looks small, but it's very long.
Click to enlarge:

Google would officially consider this a
link farm
. Link farms contradict the organic method of linking online. Organic linking is when you link your web page to another page to help your readers better understand something, or to lead them to more useful information. Like when I link from these Nuggets to other websites to help explain business and website concepts
Conversely, a link farm is created with the intention to link to other websites. The above mentioned page links to 53 other websites. Google hates these sites so much that they will often penalize your site simply for being listed there.
Not only should you decline their offer for the link exchange, you should also request that they remove the link they already placed to "show sincerity in this partnership."
What I found odd was that they are providing a link from the website SmartJewelryShopper.com, but they requested a link to the website Beyond4Cs.com. A detailed review of the Beyond4Cs.com website revealed that they do not have any affiliate or "Links Pages." In other words, they designed this as a purely inbound link site.
The site is very attractive and it's very informative... except that the information provided does not really portray a retail jeweler in a good way. If someone offers you a link exchange, you should first read their website to see if their view and website are aligned with your own business. Don't simply exchange links for the sake of exchanging them or the flattery that someone else wants to link to you.
As I read through the site, I realized that they had affiliate links set up to James Allen and to White Flash.
Large websites have methods of tracking who referred customers. An "affiliate link" is what you call the URL that does the tracking because the link itself needs to include a code that uniquely identifies the affiliate. Sites like James Allen and White Flash will then pay a commission to their affiliates when a sale is made.
I also downloaded the free eBook that was advertised on the site. Once again, it does not portray retail jewelers in a very favorable light. There's also a recommendation at the end of the eBook for the reader to purchase from James Allen and White Flash.
The FTC does require that you disclose who is paying you for making online endorsements, and I did find the appropriate FTC Disclosure in the footer links here:
http://beyond4cs.com/about/ftc-disclosure/
However, this disclosure page doesn't specifically come out and say who's paying him. It makes a vague reference to
"more than 17 different diamond sites"
but I only found 8 on the site.
As I browsed around the Beyond4Cs website I found several jewelry photo gallery pages. The site even has product pages like this one:
http://beyond4cs.com/gallery_item/heart-cut-diamond-halo-setting/
From those product pages you can click the "Get Ring Details" button to view the specific item on the James Allen website.
What I find odd is that the button is not tagged as an affiliate link. The lack of the affiliate link is a red flag for me. I can't help but wonder if the Beyond4Cs.com website is a front for James Allen being produced by their marketing company.
In conclusion, you should never automatically accept a link exchange request from strangers. You should only consider it after a careful review of the websites in question. If the link request is coming from a link farm, like the one above, then you need to thank them for the offer but respectfully request that they take your link down.