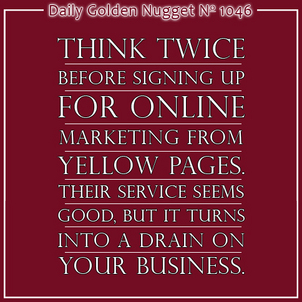 Yesterday, I had the pleasure of presenting a seminar at the JA show in NYC. The seminar was "Should You Pay For Website Traffic? Understanding How and Why."
During the seminar, I detailed what I know about Yelp, Pandora Radio, Google AdWords, and a few others methods of online advertising that can work for or against you.
One of the online marketing methods that generally works against you is Yellow Pages. Once upon a time, it was common for everyone to "let their fingers do the walking" as they sifted through a very large yellow phone book that was delivered to your doorstep every year. Before internet search and online directories, that yellow book was the only way to find local businesses offering their services at the time you needed them.
Back in the mid to late 1990s, I advertised my company in several different phone books in the Northern New Jersey area. I still have those books saved as part of my company history.
Now that the Yellow Pages are online, there's really no use for the big yellow book other than to help even out wobbly furniture legs, like I do at my apartment in France. Yes, they have, and still deliver, those yellow books in other countries too.
The printed yellow books usually only have ads from paying customers, but you'll find online business listings for both paying and non-paying businesses. I've noticed that the Yellow Pages online version never deletes business listings, even after you stop paying them. Their website would be a barren wasteland if they deleted all the listings that stopped paying them.
Sales reps from Yellow Pages continue to solicit retail stores in person with their new online marketing program. During my seminar yesterday, I mentioned websites and local search ads as two of their current online marketing services. They have others, but these are the two services that I often see retail stores paying for.
When you pay Yellow Pages for a website, you are not actually paying for a new website; but rather a single page template website that coexists on the internet with your existing, actual website. They also purchase a different domain name to use with that single page site. The domain they purchase is similar to your original one, but they own it.
In reality, this extra website becomes a competitor of your existing site. Because the Yellow Pages network of websites has a lot of high ranking clout in Google, this extra website will often outrank your website in Google search results.
Here's an example of a Yellow Pages website created for Lacki's Jeweler in Clifton, NJ: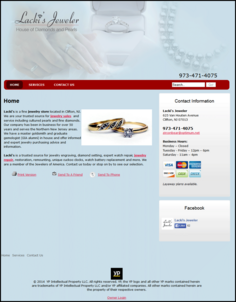 (click to enlarge)
Here's what the real Laki's Jeweler website looks like: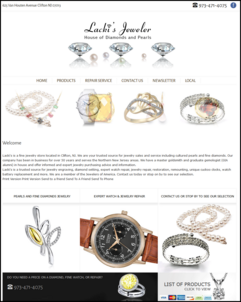 (click to enlarge)
Obviously, the real website has a better look to it and it has many more pages. The real site is much more valuable for a customer than the simple Yellow Pages created site.
I found these websites last week while doing a local search for jewelers who sell pearls. Here's a snapshot of the Google SERP showing the top paid ad and the top two organic listings: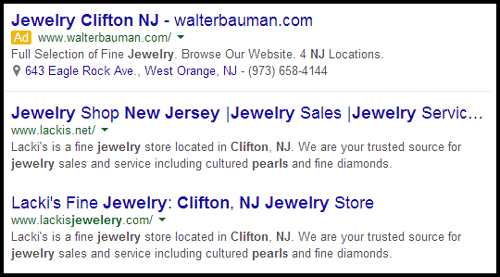 Notice the first organic listing has the domain name www.lackis.net and the second has www.lackisjewelry.com. The lackis.net website is the Yellow Pages website that they are paying for.
At first glance, it might seem really good that the paid Yellow Pages website is ranking in first place... except that their real website was probably already ranking first place for "pearl" related searches. What's really happening here is that Lacki's is paying Yellow Pages to create a website that competes with itself.
Over time, every website eventually accumulates links from social media and other random websites. Your customers may also save your website in their favorites or bookmarks. Those links and bookmarks contribute to your long term search engine optimization and improved customer experience.
Sadly, that lackis.net website is stealing SEO from the real website and it's also setting some customers up for disappointment in the future. You see, that lackis.net website will fade into oblivion once Lacki's cancels their Yellow Pages service, and so will all the SEO and bookmarks that go with it.
The Yellow Pages also have a local search ad service. With that service, they will create online pay-per-click ads and show them to people searching for jewelry related keywords. They will give you a list of very attractive jewelry related keywords.
Those ads will bring potential customers to either the website that Yellow Pages creates for you, like that lackis.net site, or to your business listing. The ads will not bring people to your own, REAL website.
Although they give you reports to show you how many people clicked on your ads, there's no way to test the conversions of those customers or implement advanced A/B testing to improve your sales.
This is the Yellow Pages system. I don't recommend it at all because once you start using it, you are allowing them to slowly erode the long term SEO, organic traffic, and customer retention. Their service is akin to an addictive drug that your business eventually can't afford to pay for; yet the loss of business would be devastating once you stop using it.