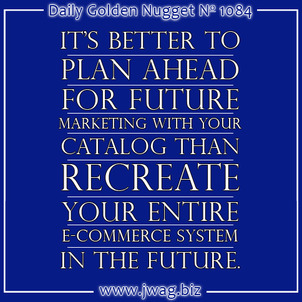 Let's talk products.
Do you have them on your site? I'm not talking about links to offsite vendor catalogs, or even iframe widgets either. You need to have an honest-to-goodness product catalog on your website that you control.
During the days of the Internet Bubble of the late 90s, everyone would flock to your website to see what you sold. There were many early attempts at e-commerce and online shopping, but setting up an e-commerce system yourself is complicated and super time consuming to manage. In an effort to speed up the process of online sales, many companies started offering e-commerce systems that could be used as a "service" rather than setting up your own site.
These service companies, like Amazon, eBay, and Yahoo ProShops, experienced explosive growth when people realized they could have an online store without the technical setup and responsibility.
Over the last 10 years, there's been a shift away from individual e-commerce sites in favor of the ability to upload your product database into e-commerce service companies like the ones named above. But I'm sensing another shift coming.
Google recently made some huge strides in the ability to market your products online. They are calling it Google Shopping, and it's a way to upload your product database into their advertising system and tie it in with AdWords ads. At the moment, the Google Shopping and AdWords are two different systems, but I'm guessing they will merge in the future. I won't go into the specifics of what Google Shopping is or how it works, but while I was working through their recent platform education I realized something interesting.
Google rarely tells you exactly what you should be doing to improve the ranking of your website. I'm always trying to read between the lines of their official announcements and pay attention to how things work together.
Well, in the Google Shopping training they were stipulating that every product you carry must have a unique product code (SKU) and title. They specifically said that you should not use drop down menus to adjust item sizes or other characteristics.
Let me translate this into jewelry terms with an example. Let's say you sell an eternity ring that can be made in white gold, yellow gold, or platinum. That same style ring can be ordered with total carat weights between 0.75 and 2.0 ct. From a product management point of view, the easiest way to do this is to have a single product with an "options" setup.
Within e-commerce software the term "options" refers to the ability to create a single item with multiple modifiers that change what the item looks like, and potentially the price. When buying a shirt online, these options would be the S, M, L, XL sizes and the choices of colors of red, black, or blue. There's a total of 12 different physical items that you need to carry in the store when you have 4 shirt sizes and 3 color choices.
The same is true for the eternity ring in 3 choices of metal and 4 diamond carat weights. That's 12 items, right? Not quite. What about the ring size? That's a whole new dimension that can turn 12 physical items into many dozen.
Well, from Google's point of view, they want you to have an individual page on your site for every possible combination. They recommended that the product descriptions be slightly different to illustrate the different characteristics, but they also said that it won't count against you if the descriptions are the same.
However, the URL and the title of the product must all be different. The title would be in the H1 tag on the product detail page.
When you factor in all the permutations of options, you could easily surge a product catalog of 2,000 items into a catalog of 70,000 items.
Google wants to see 70,000 pages, but your customer certainly doesn't want that. That's way too much to browse through and it would be very confusing. Yuck!
The best solution I see for this situation is to create a catalog that aggregates all the same items into a single page where the user can still select a drop down menu, but the item added to the shopping cart would point to a single product SKU, rather than a master SKU with options.
I can see the extreme SEO value in having 70,000 products on your site, and I also realize that there will be groups of items with the same product descriptions, i.e. duplicate content. The video training I just watched said it wouldn't be an issue when you have unique titles.
Google's concerns about duplicate content have abated a little in the last year or so since they figured out how to analyze sloppy websites. Duplicate content is more of a concern when other domain names have reproduced your exact content.
Even though you might think Google is crazy for suggesting such a massive product catalog, my experience with Amazon.com has been the same. They also want you to upload a database of individual SKUs for every permutation of items. So in reality, Google is following Amazon's lead on these recommendations.
Over the past three years I've already worked on two sites that had multiplexed products. We had to account for the multiplexed products because these jewelers are uploading their inventory to Amazon. I can tell you from firsthand experience that it's difficult to set up. Each site took more than 18 months to plan out and launch.
The availability to purchase online isn't going to slow down. There will be more sites like Amazon through which you can sell your products; there are new devices every day through which people can view your products; and there will be new marketing methods to help you promote very specific products.
You can already use advanced Facebook Retargeting and Google AdWords Remarketing to continually solicit people who have viewed those specific product pages.
Many programmers follow Amazon's programming lead and copy their ideas. Now that Google Shopping is throwing its weight and recommendations behind this idea of a large product database, you can be sure others will follow. As we forge ahead into the future, you need to plan ahead for this massive multiplexing of product SKUs. Rethink your next website and online catalog and get started.