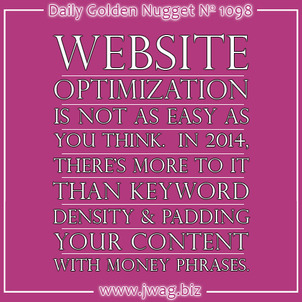 I'm changing up my usually schedule this week. I have two special Daily Nuggets for Thursday and Friday this week which pushes my weekly review to today.
For today's website review, I'm heading back down to Nashville, Tennessee in search of a jeweler. Here's the Google SERP when I searched for "jeweler Nashville, Tennessee":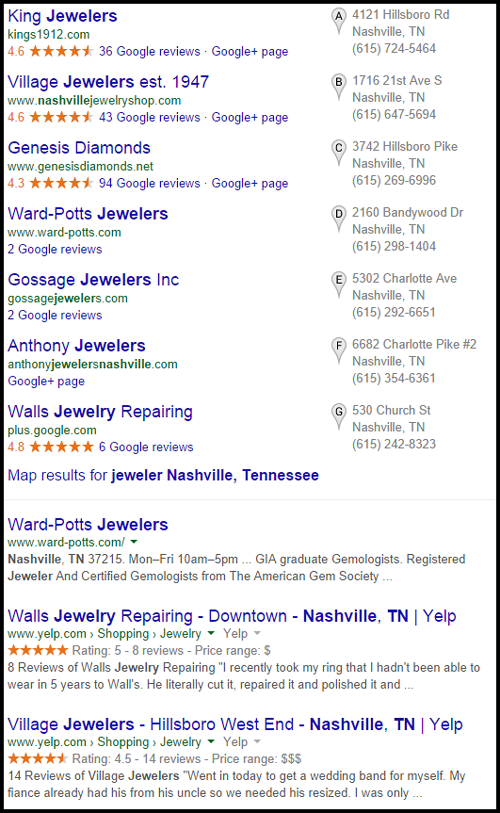 This SERP looked familiar to me, and sure enough, I reviewed
King Jewelers
in December 2013. So instead of selecting the first jeweler on the list, I decided to move on to the second.
We're going to check out Village Jewelers at
http://www.nashvillejewelryshop.com/
Here's what their home page looked like: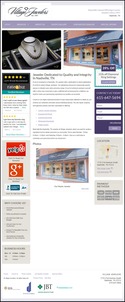 (click to enlarge)
My first impression of this home page wasn't good. I was immediately drawn to the "rateAbiz" badge on the left and then over to the "25% off" offer on the right. Seeing both so fast made me feel like they were trying to sell me fast. It felt like a spammy website.
I'll be the first one to tell you that having reviews on your home page is a good idea, but take a close look at this rateabiz badge and tell me if things don't look fishy: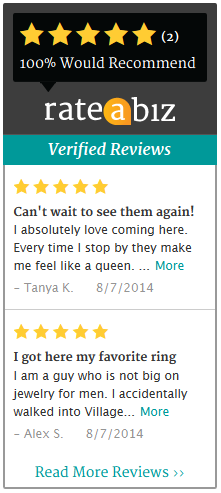 The first thing I noticed was that both reviews were posted on the same day, August 7, 2014. This really does look fake since most businesses would never receive reviews on the same day. As of this writing, Village Jewelers has 43 reviews on Google and 14 on Yelp. Obviously they can get good reviews, but this feels wrong.
I feel the "25% off" offer on the right is misplaced. As a customer, I'm not sure why I would want 25% off so quickly when I haven't even looked through their product catalog, nor read about their services. After looking around their site I couldn't find any pricing at all, but yet that 25% off offer is on every page.
As it turns out, Village Jewelers is paying Yodle.com for the widgets that control the 25% off, and the reviews.
Now I'll move to the topic of search engine optimization. Although I don't have access to their tracking or analytics, my professional SEO experience tells me that their website is extremely over-optimized. They are overusing many of the keyword phrases that jewelry stores should be ranking for, except they are not using them in a natural way.
Here's some things that jumped out at me right away:
1. They have an
exact match domain name
2. They have the phrase "Nashville, TN" on their home page 5 times. That's a little excessive.
3. The copy on their home page is written using older, now defunct, SEO content writing techniques.
More evidence of over optimization is clearly visible in their services drop down menu shown here: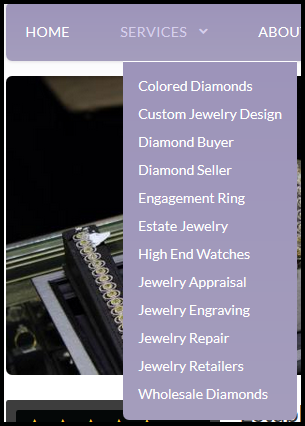 I recognize each of the 12 items in that drop down menu as very specific keywords that consumers search for in Google. Here they are:
1. Colored Diamonds
2. Custom Jewelry Design
3. Diamond Buyer
4. Diamond Seller
5. Engagement Ring
6. Estate Jewelry
7. High End Watches
8. Jewelry Appraisal
9. Jewelry Engraving
10. Jewelry Repair
11. Jewelry Retailers
12. Wholesale Diamonds
Even though those are all keyword phrases a retail jewelry store should be targeting, it's numbers 5, 8, and 11 that stand out. Google wants you to design your website to be easy to understand by people rather than set up for a search engine to easily read.
The phrase "Engagement Ring" is clumsy when presented in a menu like that, it should be the plural version "Engagement Rings."
The singular version of the phrase "Jewelry Appraisal" is not normally seen in the navigation of a jewelry website, and it's more natural to use "Appraisals" instead.
Seeing the phrase "Jewelry Retailers" in the navigation immediately makes me think that they are a manufacturer or designer, but they are not. This particular page is only here to attract organic traffic of the people searching for "jewelry retailers in Nashville."
Every page of their site has some type of phrase over-optimization; most of it includes their city name.
When looking at their code, I found that they are using Google Analytics as well as the A/B testing services of Optimizely.com. I certainly give them credit for using A/B testing on their website, and I wonder if I was seeing the A or B version of their site.
With all the over-optimization on their site, it's no wonder why I didn't see them ranking very highly in the organic search results. These guys are trying too hard, or their SEO company is trying too hard to impress them.
FTC Notice: I randomly choose this website and won't be telling the retailer jeweler that I'm doing a review. Unless someone else tells them, they will only find out about this review if they examine their Google Analytics and Google Webmaster Tools. I'm not doing this to solicit business from them, but rather as an educational exercise for everyone. This review is completely impartial and all my comments are listed in the order that I discovered them.