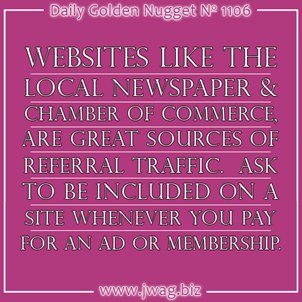 We're now in the last two weeks of October and a lot of holiday promotions are about to launch. You've probably already completed your own marketing and all the publication dates have been set. In this edition of the Daily Golden Nugget, I'll go over some last minute online marketing referral sources that you still have time to set up this week.
Your customers will find you through many online sources. Some of those sources will be your own paid marketing, while other people arrive through organic traffic. But then there's a whole group of people who find your website through links from other websites. These links are called referrals.
You can find your website referral report in Google Analytics under Acquisition -> All Referrals as shown here:

This is the 3rd time I've looked at this report and reported about it. I've included the previous data for your reference below. These are listed in their order of importance as of September 2014.
News Sites
September 2014: 5.33%
August 2013: 3.15%
March 2012: 3.11%
Pinterest
September 2014: 2.59%
August 2013: 2.62%
March 2012: 0.25%
Designer Websites
September 2014: 2.55%
August 2013: 4.32%
March 2012: 2.70%
Yellowpages.com
September 2014: 2.26%
August 2013: 7.06%
March 2012: 2.59%
Facebook Mobile
September 2014: 1.93%
August 2013: 0.59%
March 2012: 0.49%
Facebook.com desktop
September 2014: 1.56%
August 2013: 1.62%
March 2012: 2.67%
Yelp
September 2014: 1.56%
August 2013: 1.97%
March 2012: 0.77%
Superpages
September 2014: 0.20%
August 2013: 0.62%
March 2012: 0.59%
Chamber of Commerce
September 2014: 0.20%
August 2013: 0.41%
March 2012: 0.25%
Yahoo Local
September 2014: 0.15%
August 2013: 0.82%
March 2012: 0.32%
The news websites have jumped into the top spot as the most important type of referral that your website could receive. This is because the local newspapers are realizing how important it is for them to provide online ads in conjunction with your paid paper ads. Call your newspaper representative and find out if you can include online banner ads or referral links on their website as part of all of your holiday marketing this year.
Pinterest exploded into popularity in 2012 and has maintained a steady spot as a good source of online referrals for jewelers. These referrals come when your customer pin photos from your website to their own account, and when you create several of your own boards to attract attention. If you don't have a Pinterest business account yet, you can spend a Sunday afternoon setting one up and populating it with a few dozen images from your website.
If you carry any name brand designers in your store, then you should ask them to include you in the Store Locator feature on their website. Designers who don't sell to the public are a great online referral source for your store. Contact every one of your suppliers and have yourself included. It doesn't matter how big, small, or well known your designer is; just ask to be included.
Surprisingly, the YellowPages family of websites is still a good online referral source for retail jewelers. Although YellowPages offers a paid service, you should simply claim your free account and make sure the information is updated.
While Facebook's desktop popularity is slipping, the Facebook Mobile app is gaining. This means your customers are clicking on links you are sharing, and they are hoping you have an easy to use mobile website.
I've seen Yelp's popularity rise and fall over the years as their working relationship with Google has also risen and fallen. No matter what, Yelp is a good system to be on, so claim your account and make sure your business information is accurate.
I've included SuperPages, Chamber of Commerce, and Yahoo Local simply for reference. If you have the time, you should claim your business listing on all online directory websites, like SuperPages.
In addition to the Chamber of Commerce websites, you should also make sure your store appears in the online directory for any local organizations, like LeTip, BNI, or even Meetup.com. This is a great way to get your name out there in a way that provides trust factors.
Apparently, all the advertising clout that Yahoo Local once had is nearing complete death. They are a local business directory that's just barely still viable.
Conclusion:
Each of these online referral sources are tapping into their existing network of users. You don't have to worry about paying for the marketing to reach those people; you are simply participating in places where people are already being drawn to.