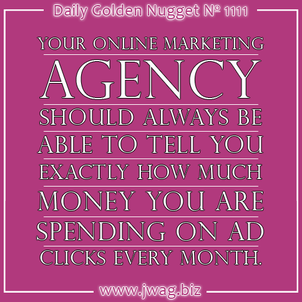 Winds of change are coming for agencies that manage Google AdWords. The changes will be a big eye opener for business owners.
From my point of view, there are a lot of agencies that prey upon small businesses who don't know how Google AdWords works. Companies like DrivenLocal, ReachLocal, and even YellowPages all sell a good story but offer a limited paid advertising service.
Over the years, retail jewelers have called me after receiving an in-store visit from their local YellowPages representative. Usually I'm asked to evaluate the online advertising proposal that was offered. Honestly, those proposals always look really good because they include a long list of keywords that would be perfect for the business to target.
The proposals usually include a monthly budget and an estimation of the number of website visitors that the paid advertising will bring to the site. The monthly budget is usually presented as a flat fee which includes both the ad insertion fees and the management costs. However, it's important to comprehend that you're not actually paying for a flat-rate online ad that is guaranteed to appear X-number of times during a month.
Online ads that target keywords are based on fluctuating bidding by all the businesses paying to compete for those keywords. Some months the bidding is high while other months it's pretty low. Your ads might appear 30 times in a month when the bidding is high, and 500 times a month when the bidding is low. There's really no consistency.
This lack of consistency has created a general negative attitude toward pay-per-click ads. Imagine a business that relies on 500 ad clicks per month. In June the cost of those ad clicks might be $250 for the entire month, that's $0.50 per click. Come December, because everyone else is bidding, the cost of each click might be as high as $5 each. That's $2500 in ad costs. The small business might not be able to afford that huge jump, but at the same time they will lose a lot of business if they don't pay that amount. That's why there's a negative attitude towards building your sales based around online pay-per-click ads.
The YellowPages sales rep who walks in your front door doesn't usually know how the system works, and doesn't usually understand anything about online bidding. They print performance reports that always show how many keyword targeted people visited your website. It looks great on paper.
What irks me about those reports is that you don't specifically see how much money is spent on clicks every month. It's a flat fee from your point of view, but the truth is that part of the monthly fee pays for their management service and part of it pays for the clicks. Since they allocate the same amount of money for the clicks every month, you'll always have a fluctuating number of website visitors.
Starting in November 2014, Google is changing the policies for AdWords agencies. All agencies will now be required to change their invoices to show their management fee and the per-click fees.
The new AdWords policy can be found here:
https://support.google.com/adwordspolicy/answer/6086450
The important part is this paragraph: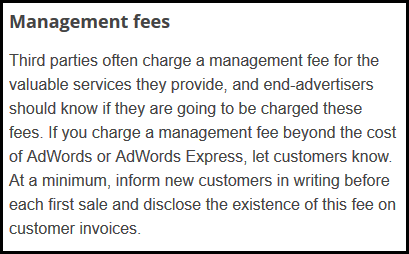 It's important to note that this policy only applies to agencies that are using the AdWords network. Although that does include most of them, there are exceptions. YellowPages has their own internal advertising that appears on every YP website property, and Yelp has their own ads that appear on other business listings.
You can see examples of both YP and Yelp ads in the
SERP review
I wrote last week. In that review, you'll specifically see how the retail jeweler was paying for YellowPages ads that were then fed into the Google AdWords system. As of November 2014, YellowPages will have to stipulate how much money is allocated for that exact ad service.
I appreciate the policy change that Google is forcing on agencies. Thankfully my own agency never took this flat rate billing approach. We always make our clients pay Google directly and then we send a separate invoice for our monthly management fees. That method allows for the greatest control over exactly what will be spent every month.
So watch your invoices and ask your AdWords agency to comply with the new policy if they don't voluntarily do it.