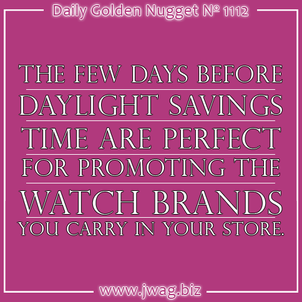 Around this time every year, my local fire department hangs out their "Change your clocks, change your smoke detector batteries" sign. It doesn't rhyme at all, but they want to make sure you get into the habit of associating a required action with a life saving action that we all would otherwise forget about.
Since daylight savings time is on everyone's mind, this is also a good opportunity to tie in some type of watch promotion. Selling watches isn't as glamorous as selling diamond covered jewelry, but it's still a sale that shouldn't be overlooked.
Even though watch sales have declined in the age of smartphones, you can't ignore the product line if you carry them in your store. Regardless if it's watches, or some other line of jewelry, you should be advertising all the products that are in your showcase.
Capitalizing on a few watch sales this week and next should be easy. Get promotional photos from your watch brands, post them to social media, your website's home page, and include them in an email blast. Come up with a few words to either advertise a "last minute" watch sale, or simply announce that "it's time" to consider a new watch.
There are a lot of puns you can tap into when selling watches during daylight savings. They might be completely corny, but they also help reinforce the association and your promotion.
I'd like to stress that you don't need a special sale price to advertise your watches. In fact you don't need a special sale price when you advertise any of your products. All you need is a compelling reason or associated story that ties your product to the event or emotion.
Here are some ideas for you to help sell watches during daylight savings time:
1. Headline of "Fall back in time"
This is a good headline to promote a classic or timeless style watch. No sale needed if you write a compelling description of why this is classy and a must have for those special occasions.
2. Headlines of "Extra Hour, Extra Savings"
This one does promote a sale on all watches.
3. Headline of "The Delicate Passing of Time"
I saw this headline used in 2013 to advertise a diamond covered watch.
4. Headline of "It's time to set things right"
This was a cute headline from 2013 associated with a huge watch clearance sale.
5. Simple PSA stating "Don't forget to set your watch back one hour on November 2nd!"
That could be your headline along with a few editorial type photos of designer watches and their price.
Even if this type of promotion doesn't generate sales this week, it's still a great reason to associate your jewelry store's name with a typical event we all experience. Consider this to be part of your store's branding and a non-sales-y opportunity to get your name back in front of your customers.
Many retail jewelers who manage their own emails often struggle to find topics or legitimate reasons to send bulk emails to their customer list. Associating daylight savings to a watch promotion is a perfect reason, and it will not seem like an unsolicited bulk email.
Spend an afternoon thinking about this today or tomorrow and try to get the promotion out there on Thursday or Friday this week.
While I'm on the topic of watches, keep a lookout for the upcoming Apple Watch. There was a lot of buzz when it was announced in September 2014, but it won't be available until early 2015. Although the distribution channel is not yet known, you should apply to carry the Apple Watch in your store if they allow distribution through retail jewelers. This will be a huge win for increasing foot traffic to your store.