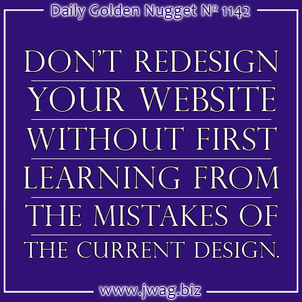 The request has come far too often. I get a phone call from someone wanting to redesign their website. They tell me that their website is old, hasn't been updated, and they just want to start over.
Along with the request to redesign a website, I'm also usually told that they don't want to tell their current web programmer that they will be canceling service. Some business owners have decided that they want to file for a surprise divorce of their programmer.
While I can appreciate dissatisfaction with a web programmer's previous work, those types of divorces will only hurt you, not the web programmer. Truthfully, that programmer has access to information you need to make a better website.
While it's quite possible that a complete reboot of a website might be better for the business, you really won't know until months after the new site is launched.
Older websites usually have a lot of hidden value throughout the web. How many times has your website been shared to Facebook, Twitter, Google+, or been linked to from a blog post. Honestly, there's no way to know. So when someone tells me their website is old, I know that they will need a
301 redirect service
as part of their new website setup.
Other than capturing and saving old inbound links with 301s, there's a wealth of other business intelligence you can gain by analyzing that old website. You can use Google Analytics to analyze the content people read, what they click on, and evaluate usability by reviewing bounce rates and
exploring heatmap tracking
.
Digging through the information on Google Webmaster Tools will show you how people find your website and the pages that commonly appear in search.
When you take the time to analyze this information, you will discover some good things that should be carried forward to the new design. Things like placement of links, attention grabbing photos, and content that people always seem to read. You'll also discover pages that people rarely read and links that no one ever clicks on.
This analysis process can't be performed quickly. In fact it will take longer to analyze if your website doesn't have a lot of traffic. It will take the typical retail jewelry store more than a month to accumulate enough information on a heatmap to make it valuable.
Once you have this information in hand, you can start designing your new website. If your website has fewer than 100 visitors per day, you could just redesign the site according to your tracking information and launch it when ready. Once launched, you will have to monitor all of the tracking I mentioned above and tweak the new design until you feel you've achieved a good user experience.
On the other hand, if you have more than 100 visitors per day then I suggest a completely different strategy for designing and launching the website. With 100 or more visitors to your website daily, you are probably also running e-commerce and your in-store foot traffic is directly related to those visitor counts. Changing your website suddenly would surely affect your business, and your cash flow. Therefore, you need a better redesign strategy.
For the bigger websites, you should gradually redesign the site by using A/B Testing. A/B Testing allows you to deploy new features or designs on your website to a small group of website visitors in order to see how they react. You can rollback design changes that fail while fully deploying design changes that had a positive effect.
You will need some ideas of what you hope the website will look like before you employ this A/B Testing method of website redesign. Ultimately, the user tracking will help you formulate the final design.
This approach will also take a long time, at least 6 months before you've completely transitioned from the old design to the new design. Your regular website visitors (aka repeat customers) may not notice the subtle design changes as they occur; neither will one time visitors.
Although 6 months might seem like a long time to redesign a website, truthfully I've worked on website design projects that took much longer because the owner was
falling in love with their design
, then launched it all at once.
You need to routinely redesign your website as technology progresses and new devices are use to view it. Be smart about the redesign process and tap into the valuable knowledge that is available to you.
As you grow your business, you are always learning from your mistakes and improving. Likewise, you should always improve upon your website by learning from your previous design. It's simply a smart redesign process.