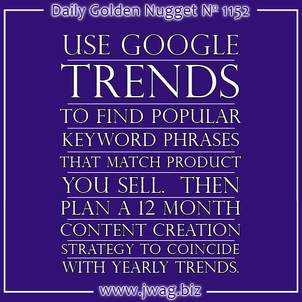 You probably already know that Christmas is the most popular day of the year for a marriage proposal. No doubt you've been helping with the selection process for the past few months leading up to tomorrow's inevitable day of celebration for many couples.
According to
this marriage proposal survey
, the most popular day of the year for popping the question is still Christmas Eve, followed by Valentine's Day, then Christmas Day. Again, that's probably no surprise to the retail jewelry reading this.
But did you know that the number of marriages every year is starting to rise again from the slight dip in 2009? The CDC website has the most recent
National Marriage and Divorce Rate Trends here
so you can see for yourself.
Using Google Trends (
http://www.google.com/trends/explore
), we can see the online popularity of the "engagement ring" search phrase every year: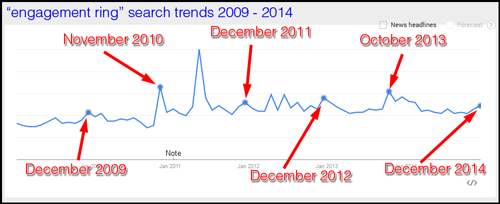 The above graph shows the relative popularity of the "engagement ring" search phrase on a scale of 0 - 100. I've marked the holiday seasons from 2009 through 2014.
There's always a rise in search popularity each year during the run-up to Christmas.
The spike in November 2011 was instigated by the Royal Engagement and the surge of searches for photos of the sapphire and diamond engagement ring.
I didn't label the taller spike on the chart because it's also unrelated to jewelry sales. That one was instigated by interest in Kim Kardashian's engagement ring.
Analysis like this is possible for any time of the year and for any search phrase. Understanding when your customers search for key phrases will help you plan out your website content creation, online marketing, and social media tactics.
To get started, you should think about the popular product categories you carry and search Google Trends for related phrases. From there, you can plan out the next 12 months of content marketing.