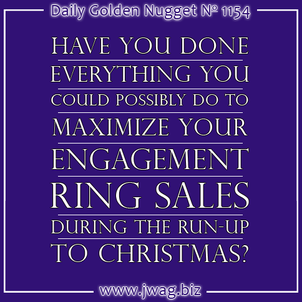 According to
this marriage proposal survey
45% of marriage proposals for the year will take place on Christmas Eve (last night) and Christmas Day (today), but as a jeweler you probably already know that.
Can you count how many engagement rings did sell over the last 3 months? How many nervous boyfriends did you help through the process of learning about the 4C's of diamonds and the difference between an SI1 whose inclusion is difficult to spot and has a similar brilliance to VS1?
How many of those guys didn't come in for diamond engagement rings, but instead they were more interested in your mens line of jewelry? Likewise, how many ladies came in to look at a diamond engagement ring that wasn't for themselves?
Same-sex wedding are now legal in 35 of the United States and according to Huffington Post, it's
overwhelmingly probable that national same-sex marriage
will happen in 2015.
Sadly, very few retail jewelers are embracing the same-sex engagement or wedding ring sales. Some states still have discrimination laws that would allow for gay employees to be fired, and for service to be refused. If you are one of the jewelers who would refuse service, then please, stop reading this and go find a cat meme on Facebook to giggle at.
Then there are those of you without a discriminatory bone in your body who would openly welcome the same-sex engagement ring shopping in your store. But those same-sex couples do not know that. They need to.
Worries of discrimination and being made to feel like a second class citizen still haunt many within the gay community. According Bernadette Smith with GayWeddingInstitute.com, about 25% of same -sex couples experience some form of discrimination during their wedding planning. Many couples will search online to find vendor who openly welcomes same-sex couples rather than shop with a vendor who says nothing.
In its second annual survey on gay marriage, The Knot reported that 62% of same-sex couples are exchanging engagement rings. You can read the entire survey
here
.
Bernadette Smith reported similar numbers during her presentation with The Plum Club in their
Engaging Today's Bridal Customers
webinar. You can watch that webinar
here
. Bernadette specifically broke it down to 66% of women are exchanging rings vs. only 19% of men.
That low number for mens engagement rings seems very obvious to me since there's a greater profit in advertising large diamond rings than the marketing required to attract men.
The number of same-sex engagement rings will increase. There's no doubt about it. As acceptance of same-sex marriage grows there will be more opportunity for vendors serving the wedding industry, that is, as long as vendors are willing to also show their acceptance.
You don't have to hang a rainbow flag or even put a rainbow sticker in your window to show your acceptance; indeed there are much more subtle ways to welcome same-sex couples to your door. The most subtle way is to remove gender specific terms from your website. In fact, several years ago my own company started programming gender neutral or ambiguous terms like "spouse" and "fiance(e) 1" and "fiance(e) 2" into our online registry software.
In May 2013, JCK magazine published the article "
Same-Sex Marriage Is Redefining Bridal Jewelry
" which you should read
here
. Specifically, read the last section on methods of "Rolling Out the Welcome Mat."
The wording and photography used in all your mainstream ads should be adjusted for neutrality or ambiguity. On the other hand, there is plenty of out-of-home marketing that specifically targets the gay audience. You will get noticed very quickly if your ads in that media are specific for same-sex couples.
Unless you, the retail jeweler, are willing to show your direct support (which also increases your bottom line), then the upcoming waves of same-sex couples will simply patronize e-commerce websites where they can purchase their rings without any fear of discrimination.
Websites like
Love and Pride
cater specifically to the same-sex couples, and there are plenty of sites like
Weddens
that provide plenty of gender neutral options.
Truthfully, you already carry all the typical engagement rings as any jeweler would. Now you need to spend some time at the next trade show to visit a supplier with high quality, attractive, and high margin mens ring styles that you could carry in your store. This is a completely new community you'll be targeting, so you'll have to test out new lines to carry in your store.
There's a lot more to all of this than simply the correct marketing and inventory. Along with your store image, your staff will also need training. For that I recommend the webinar education provided by
Gay Wedding Institute
.
I wrote about this topic in hopes it will help broaden your strategies for the upcoming year.
Even more importantly, I did it today because my husband proposed to me on Christmas Day, 2010. He struggled to find an engagement ring locally within his price range, but the jewelers he went to weren't, as he says, "jumping on board" to help him. Ultimately, he searched online and asked his family and friends for advice before placing the order.
On behalf of the LGBT community, I urge you welcome these couples, and in turn grow this new area of business.