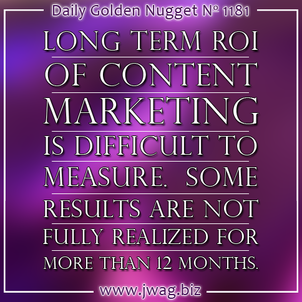 I'll be the first to admit the website content creation difficultly level is pretty high. Content includes infographics, photos, podcasts, PDFs, videos, testimonials, and, of course, the written word. It takes hours to prepare each of those types of content but the return on that time investment come in the form of
several years of attracting customers through organic search results
.
It's difficult to measure the short term value of the content you create, which is why so many business owners feel that it doesn't work. On the other hand it's easy to see the immediate value of online paid ads because they do attract customers rapidly, but those customer stop coming when you stop paying for the ads.
If you only have $500 to spend on advertising, how do you weigh the importance of using that money to pay for an ad, or using that money to create content. The answer is not simple black and white. If that's your last $500 then your business is probably already in trouble. If I were down to my last $500, then I would create a landing page on my website and invest that money into Google AdWords Express and Facebook ads that brought people to that landing page. Then I would say a few prayers and plan for the worst.
On the other hand, if I were just starting a business and that $500 was my first investment into advertising, then I would create some interesting content that I think my potential customer would like, and I would spend the left over money to try and target customers through Facebook and
AdWords Express
.
Of course then, there's the everyday average business that's looking for a new, more effective form of advertising to spend that $500 on.
I listed several different types of content above that you should consider creating with that $500 in hand. The one you choose all depends on how you want to attract your audience. Will a video resonate more with them? Or are they more likely to listen to you speak through a podcast while they drive or work out? The most common type of content creation is writing because it's the easiest form to produce, edit, and publish.
Writing includes all forms of editorials, newsletters, and blog posts. The word "blog" has become ubiquitous with all methods of writing, so I'll just refer to it that way. While blog posts might be the easiest to produce, the initial investment into all content creation methods is very high when you do it yourself or pay an employee. It really is difficult to allocate that money when the financial return is in the far future.
We all like immediate results, but that doesn't happen with content creation. Content creation is a long term marketing strategy, more frequently referred to as content marketing.
You could pay someone to create content for you, or you could do it yourself. If you're going to personally do it, then take the time and create something that is as useful today as it will be two years from now. The content you create can build upon what you've created in the past, and when it does, you should link to that old content from within the new one.
I use that linking technique in almost every Daily Golden Nugget when I say things like
click here to read my first set of blogging recommendations
from back in October 2010.
While writing these daily newsletters is part of the ongoing educational service I provide, I don't have time to create fancy infographics, record podcasts, or edit videos like I really wish I could. We all have time limitations. You will have to overcome your own time limitations if your customers prefer photos, videos, or something else.
You'll have to pay someone else to create content if you can't overcome your time limitations. That person could be your employee or it could be a freelancer. Because you and your employee understand your customers, the quality of content you both create will probably be similar and well received by your customers. Having your employee create content is costly because you have to pay them for a few hours of work. Hiring a freelancer is much less expensive because you can usually pay a flat fee for a specific content creation job.
On the other hand, a freelancer doesn't know your customers as well as you do, and the content they create won't be as valuable to your customers. However, it will be good for attracting a lot of organic traffic from search engines because the stuff they create usually targets specific topics and keywords that drive a lot of visitor traffic.
To put some numbers to this, let's assume that your time is valued at $50, your employee is valued at $20, and you pay a freelancer $15. Assuming that it takes at least 2 hours to create content, your costs would be:
$100 for you to do it
$40 for your employee to do it
$15 flat fee for the freelancer to do it
Which is a better value for you? How would you spend that $500 now?
If you trust your sales skills to close a sale once the customer arrives, then the better value would be to hire a freelancer to produce 33 pieces of content for you. If your website needs to close the customer and make the sale then you probably should produce at least one piece of content yourself and have your employee create 10 more.
If you and your employee are overworked, then you probably need to reevaluate your business. Hiring a freelancer to create 33 items of content will bring more website traffic and more potential customers that will keep you in that overworked routine.
Content marketing is important, but you have to create the right content that resonates with your audience and make sure the people with the right skills produce it for you.