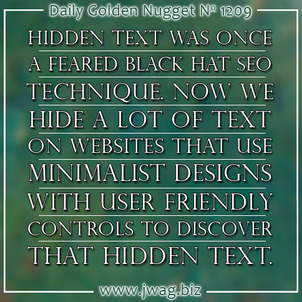 In this edition of #ThrowbackThursday, I'm jumping back to May 2, 2011 the Daily Golden Nugget on
hidden text on a web page
that is not considered Black Hat SEO.
I haven't mentioned Black Hat SEO in a while, so let me briefly explain what that is. Google ranking algorithm was less complicated prior to 2012, and many people figured out simple ways to exploit that simplicity for their own ranking gain. Those exploited procedures worked so fast, it was like using black magic to gain a financial foothold in your market.
Eventually, those wielders of digital black magic were viewed like the bag guys in old movies who always wore black hats. Many get-rich-quick schemes relied on black hat SEO techniques, while those people providing "White Hat SEO" had a longer term, more sustainable view of how search engine optimization should be performed.
One of the really effective black hat techniques was to add a lot of repetitive keywords on a single web page. Back then, Google was using a word counting process that simply matched keyword search requests with pages that had those keywords used the most number of times. Some pages were including keywords, like "engagement ring" hundreds of times, sometimes just by repeating the phrase many times at the bottom of the page.
These blocks of words looked very ugly, so black hat wizards started to hide them from view by making the words the same color as the background, or by using a few simple style sheet techniques that could hide text. Less sophisticated then, Google was unable to tell when words were hidden like this.
It was the Wild West of SEO and many people were capturing local business and e-commerce sales while Google was a baby dotCom company.
Google quickly learned how to detect hidden text and heavily penalized websites that used the technique.
Website programmers started using style sheets to provide more user friendly websites, eventually leading to the minimalist design trend of hiding more information behind tabs, buttons, or icons.
Google's penalties for hidden text were so severe that, for a while, there was a concern that hiding any text, even useful text, would trigger a penalty.
Eventually, Google had to go on record and explain to the web mastering world that they can tell the difference between a user friendly website using show/hide style techniques compared to a website using hidden text for nefarious purposes.
Don't hire an SEO agency that suggests the repetitive use of keywords on a web page. Especially avoid any that suggest they will hide information on a page that users won't ever see.