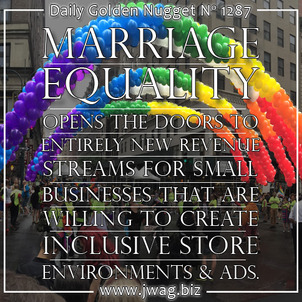 Over the last few days, we've all seen our share of rainbows exploding from our computer screens and smartphones. The Supreme Court of The United States (SCOTUS) ruled that the Fourteenth Amendment requires States to allow same-sex marriage in their State and recognize same-sex marriages performed in other states.
While the legal fight for legal same-sex marriage rights is now over, the personal conflict and religious views will continue for quite a long time to come. Regardless of your support and religious beliefs in this matter, there's one undeniable financial truth now...
You, as a jewelry store, have more opportunity for wedding rings sales.
Common Fear
The gay and lesbian community has long feared how business owners and services providers would treat them if they were open about their sexuality. Just last week, I was talking to a friend who recently went to a wedding show to talk to different wedding vendors. She made sure to ask each vendor upfront if they were willing to work with a lesbian couple. Thankfully in New Jersey, most wedding vendors are already open to, or experienced with same-sex weddings and responded with "Yes, of course, why wouldn't we?"
This isn't the case everywhere, and the fear my friend had is felt across the entire LGBTQI* community. Although the SCOTUS ruling provides for non-discrimination for marriage, non-discrimination doesn't immediately translate into "welcoming."
Understanding How to Be More Inclusive
You need to build a welcoming jewelry store if you intend on capturing this potential new client base as lifetime customers. I'm not talking about simply hanging a rainbow and calling it a day. I'm talking about a change in the way you sell your wedding jewelry, a change in how you advertise, and a change in how to talk to your customers when they first walk in the door.
Without realizing it, you might easily insult a same-sex couple with your first question. Read through this short example dialogue when a man walks into your jewelry store:
Salesperson: Hello, how can I help you today?
Man: I'd like to look at engagement rings.
What is the NEXT question that the salesperson might ask?
Saying,
"congratulations, tell me about her"
is certainly appropriate if you knew you were talking to a straight man, but at that point you don't know. If it turns out that he's gay, then you've just alienated him and it's going to be hard to sell him anything.
On the other hand, saying,
"congratulations, tell me about the lucky person,"
or
tell me about them,
is appropriate no matter who you are talking to. Let them provide the appropriate name and associated pronouns before you show them any jewelry.
This is just one small step towards making sure your new clients will feel welcomed, but you first have to attract them to your store in a welcoming manner.
Changing Your Ads
Although the fight for equal marriage rights was a long battle, now that those rights have arrived in many countries, not just the U.S., the LGBTQI community has new things to consider that they've never thought about before.
Will the average same-sex couple walk around a wedding show and openly talk to vendors? That's not likely to happen everywhere, but it is going to increase.
It's more likely that same-sex couples will gravitate to businesses that change their marketing messages to be more inclusive. Again, that doesn't mean you should simply slap a rainbow flag on your marketing; but it is a very good first step for existing materials to show solidarity. In future, you need to change your marketing message and the photography you use in your wedding jewelry ads.
The traditional ads showing a bride and a groom won't work anymore. Instead, just use photos of a bride by herself and a groom by himself. There are other types of photos you can use, but those two ideas will get you started.
Merchandising
Just because the LGBTQI community has a rainbow flag as their symbol it doesn't mean that they want to wear rainbows as their wedding jewelry. Wedding rings are still a personal choice and expression of one's personality.
While it's not a bad idea to carry a rainbow line of jewelry in your store, please don't lead your same-sex couples over to it as their first choice. Just treat them like you would any other couple when probing them for the styles of jewelry they like to wear.
Jewelers Equality Alliance
Everything I've mentioned here is just a small part of what you will need to learn in order to properly service the same-sex wedding industry. Join me at the JA NY show on July 27, 2015 for my presentation about same-sex weddings and how to sell to same-sex couples. I'll also give an introduction to the Jewelers Equality Alliance and their educational programs that will help the jewelry industry better understand this new source of revenue.
*LGBTQI is the acronym for Lesbian Gay Bisexual Transgender Queer and Intersex.