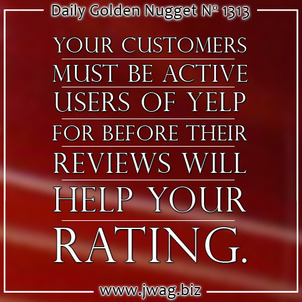 "There's no stupid question."
That's what I always say when a jeweler wants to ask me a question but starts off saying "I have a stupid question," which happened several times over this past weekend while I was at the RJO show in St. Louis. When it comes to asking me questions though, you have to be aware that I always use the good questions as future Daily Golden Nuggets, like this one.
After my Local Marketing seminar at the RJO show, a jeweler was explaining that they often ask for their customers to write reviews on Yelp, but the reviews never show up. They wanted to know why.
Yelp Review Policy
It seems like Yelp has a strange policy regarding their reviews, and it's not one that you will find written out anywhere. They do have a video which explains that they evaluate all reviews based on "Quality, Reliability, and User Activity" and they further say that "useful reviews come from active members of the Yelp community."
When a review doesn't fit into Yelp's guidelines, it hides them in your Yelp business page in the "not currently recommended" area.
Here's screen shot I compiled of a random example I found: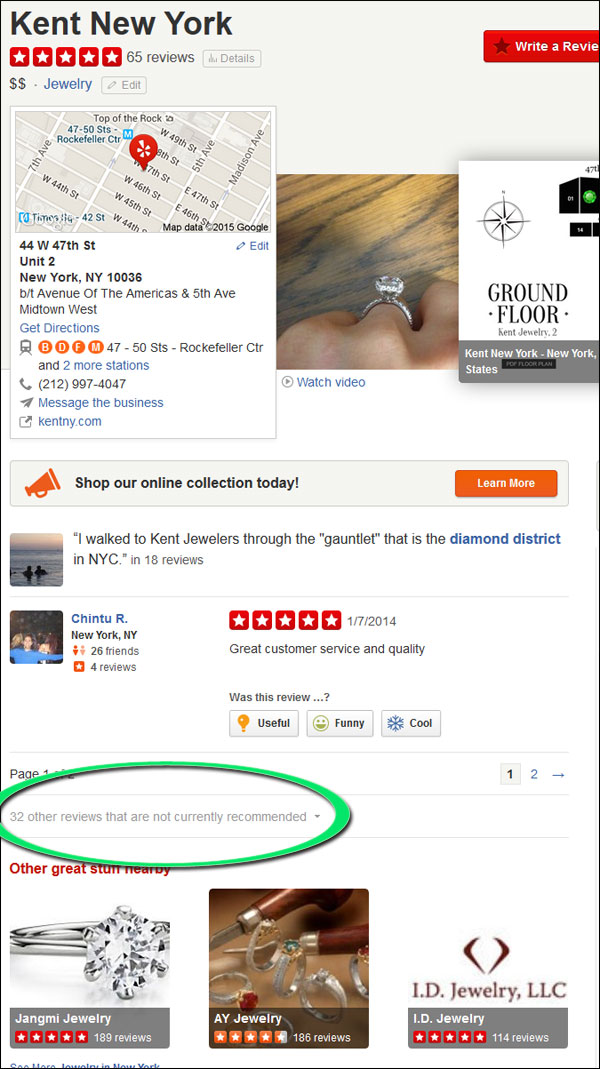 I circled the area that says "32 other reviews that are not currently recommended."
Getting Quality Yelp Reviews
Another jeweler I spoke to over the weekend told me that she includes a post card in every bag with a request and directions on how to write a Yelp review. Although this strategy might sound good, it won't work exactly as you would hope.
Remember that Yelp says "useful reviews come from active members of the Yelp community," which means a new Yelp user will probably have their first review zapped as "not recommended."
I looked through the recommended and non recommended reviews for Kent Jewelers to pull together this evaluation of the people leaving reviews: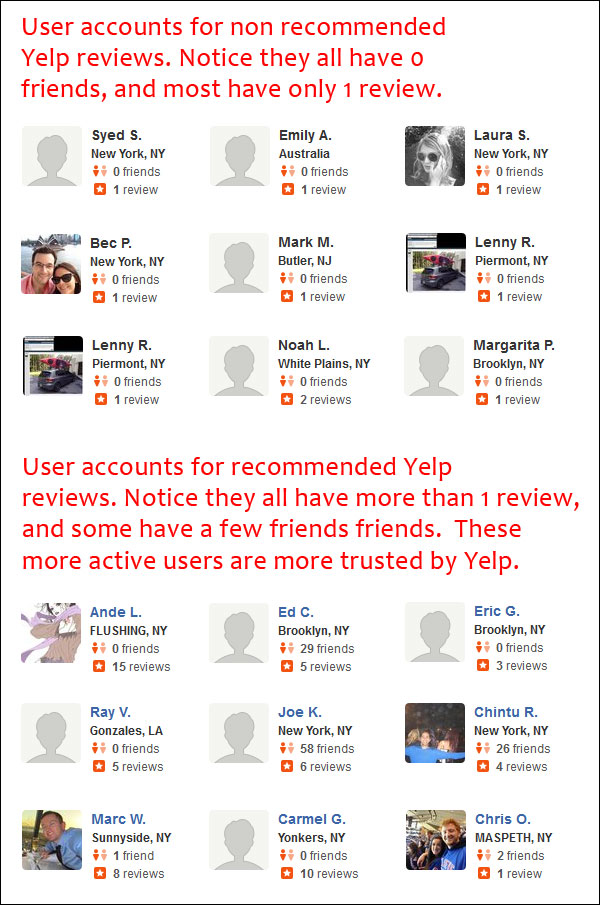 As I've indicated in the image, it looks like Yelp will not recommend a review (and therefore not display it by default) if a person created a Yelp account just to leave a positive review. Some of these one-off reviews were very long with a lot of detail, while others were very short.
Meanwhile, anyone who posted more than one review and also had a few friends through Yelp was considered a more trustworthy user, and their review was "recommended."
Bottom Line
You can't ask your customers to write a Yelp review for you unless they already use Yelp and have previously left reviews. Otherwise their efforts are in vain.
Overall, it's probably a more effective use of your time to ask customers to leave a review on your Google+ Local account instead.