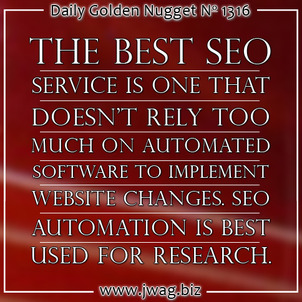 I was recently asked if I could help evaluate an SEO agency based on their email solicitation. SEO, or search engine optimization, changes so quickly it's difficult to know if an agency will be providing the most up to date services.
Here's the email I was asked to evaluate:
Reminder-SEO starts from just @99 USD per month
Hi,
First of all thank you for taking the time out of your busy day to read and consider this, We are offering SEO Special offer at very affordable price for this month only and this service will be continue for a long term for this month clients. For achieving top ten ranking and traffic we will do all possible activities and implement new techniques.

Monthly Task and responsibilities: -
We will do the following on page activities for 1st month and off page on per month basis:

1. 200 Manually Directory Submissions
2. 50 Social Bookmarking Submissions
3. 10 Press Release Distributions (1 Press Release submit in 30 Sites)
4. 10 Article Submissions (1 Articles Submit in 30 Top Directories)
5. 4 Web2.0/Blog postings
6. 1 Unique Article writing (500+ words)
7. 1 Press Release writing (500+ words)
8. 10 Social media like Twitter and Facebook Post
9. Squidoo Web page
10. Keywords Mapping
11. Keywords density check
12. Content optimization
13. Keywords proximity and frequency
14. Title Tag changes suggestions
15. Meta tags changes suggestions
16. Alt tag changes suggestions
17. HTML Site Map suggestions
18. XML site map setup
19. Anchor text optimization
20. Interlinking suggestions
21. Google analytics setup
22. Keywords Analysis & Research
23. Fortnightly Work Report
24. Monthly Ranking Report
25. Monthly Full Detailed SEO Work Report in Excel.

The price for the search engine optimization starts with $99 USD Per month.
Please let us know, If you are interested in our Affordable SEO services.

John
Marketing Manager
I'd like to point out that this is the actual email solicitation that was forwarded to me from the jeweler asking for advice, and was copied as-is without correction to spelling or grammar. It was suspected that the services were coming from an overseas company.
Next, I do like that they said
"We will do the following on page activities for 1st month and off page on per month basis."
Most of the 25 items they listed above are indeed a single time service. A lot of other SEO companies will claim that they perform all those duties every month, yet that's a lot of repetition.
On the other hand, I'm now going to use their own words against them because they say
"We will do the following on page activities for 1st month and off page on per month basis."
For $99 per month there's no way they could provide a quality job for that many service tasks, even if they only do it once. They must have some type of automation, which will probably be horribly wrong for your business.
200 Manually Directory Submissions
The first item on their list seems to be an enigma to me. They will manually submit to 200 directories. Thinking about that for a moment I know that it takes at least 5 minutes to submit to a directory manually. 5min x 200 = 1000min. That's 16.6 hours. At $99 that means someone is getting paid about $6 per hour to do that work. I don't doubt that they are submitting to 200 directories, but I seriously doubt it's being done manually. There are software systems that do this for you in seconds. In other words, I have a feeling they are lying about the first service they have on the list.
Social Bookmarking, Press Releases, Article Submissions
All three of these SEO tactics don't work well any more. Some specifics:
* Social bookmarking to a few places is okay, but not 50.
* Press Releases are only good if you have something truly newsworthy. Issuing a press release for SEO purposes is a bad idea.
* Article submission is a big no-no now. Posting the same article to multiple places around the internet won't help your website ranking; in fact, it will probably create a Google penalty for you.
Web2.0/Blog postings
The buzz phrase "Web 2.0" isn't used much anymore, but it's still a buzz phrase that non-tech savvy people recognize. Just remember that buzz words and phrases don't mean quality service.
As for the blog writing... Remember what I said about English grammar? If they can't write their own email solicitation, what makes you think that the blog they write for you will be of reasonable quality?
Social media posts to Twitter and Facebook
They will do 10 social media posts to Twitter and Facebook. Where are they getting the information for that content? Are they just posting? Are they engaging?
A reputable social media management company will charge at least $200 per month for this type of service.
Keywords
Every SEO agency needs to do some type of "keyword mapping" and "keyword density check" on your website to make sure you are doing the right thing. Once you do figure out your keywords, you do have to work through a "content optimization" process that will properly use those keywords. However, I'd be weary of anyone who recommends counting keywords as an SEO strategy.
Keywords proximity and frequency
Proximity refers to how close words are to one another when you write them out in a sentence. Are related words used next to each other or are there a few words between them? Proximity also refers to how close words are to the top of the page.
I admit, this gets a little tricky, but it's a tactic that I still believe in when implemented in small doses.
Title Tag changes
Every SEO agency should be doing this.
Meta tags changes
It sounds like this is a little vague on purpose. Are they talking about the useless Meta Keywords, or are they talking about Meta Descriptions? Meta Descriptions are short sales messages that catch someone's attention and explain what information will be found on the page.
Alt tag changes, Anchor text
This refers to the description text for your images and links throughout your website. Tweaking these correctly will help your site.
Sitemaps
They are suggesting an HTML sitemap and an XML sitemap. Both are good for a website. The HTML sitemap is what you typically see in the footer of a site and the XML sitemap is what you submit to Google and Bing.
Your website should have a way to keep these sitemaps updated regularly. XML sitemaps notoriously get out of date real fast on any website with a growing blog or news section.
Interlinking suggestions
I don't see this service mentioned too often. It refers to finding better ways to cross link your pages together, other than with the normal navigation. It's very helpful for your website visitors when implemented correctly. The trick here is not to overuse the technique so much that you confuse your visitors.
Final Conclusion
I don't recommend hiring this company. What scares me the most is how little they charge for the services they provide, and the likelihood that it is from an overseas company that won't pay attention to true domestic industry concerns and intricacies. I have mixed feelings about the services they are offering, and I don't see any realistic way they can provide those services without automation.
If there's one thing you should learn about SEO, it is that you can use automation tools to do keyword research and competitive analysis, but the implementation on your website is more complicated and should not be given to an automated system.
For $99 per month, I know they are taking a lot of short cuts. On the other hand, if they charged $1199 per month then I would want to know more. For that amount of money, I would assume all their work is truly manual and that they have a well trained staff to implement it all.