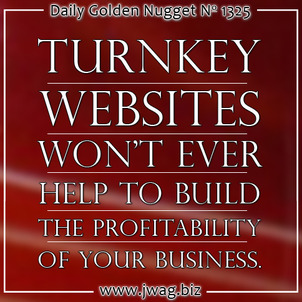 This is the Friday website review where I do a Google search for an independent retail jeweler in a random town, then review their website.
This week, I'm starting my search with the phrase "jewelry stores in grand fork nd." Every week that I do this, I try to give you my first impressions of every website as I work through it. Just looking at the results given below, I have a feeling this week's review is going to be quite... nasty. Hold on to your seats gang and let's jump in...
First, take a look at the comments I made on this SERP:

This is the second week in a row that one of the jewelers in the
local pack results is missing store hours
. When I do a search for local businesses, I'm always interested in the store hours, yet River City Jewelers appears first in the list without them. River City Jewelers also has the 2nd and 3rd organic ranking. I'll check out their website in a moment.
I'm also surprised that Google is showing the K&J Jewelry Manufacturing result when they don't have a website.
Signature Jewelers is 3rd in the Local Pack and first in the organic ranking.
I'd also like to point out the appearance of the JewelConnect.com website again. Here's a quick look at this site: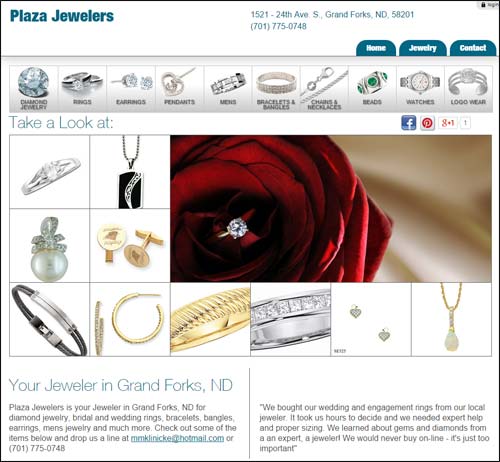 This time, the local jeweler is Plaza Jewelers. I've previously mentioned JewelConnect
here
and
here
. This cookie cutter website really isn't helpful for any retail jeweler's profitability.
I'm also a little surprised to see a tourism website appearing in the SERP. My feeling is that the local jewelers near Grand Fork, ND are seriously lacking in their website efficiency, so Google had no choice but to include this offbeat result.
River City Jewelers
I decided to choose River City Jewelers because they were first in the Local Pack and 2nd in the organic listings. The URL is http://www.rivercitygf.com/
This is what it looked like when I visited it: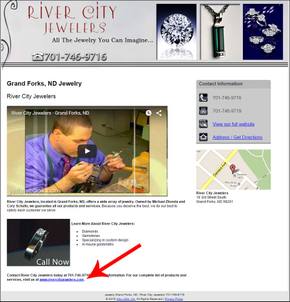 (click to enlarge)
Speaking of turnkey websites, this is another one. What you see above is the standard format that YellowBook uses for businesses who buy into their monthly program. What I really hate about the YellowBook service is that they register and own the domain name they set up for you, in this case the rivercitygf.com domain name. It will be deleted when River City Jewelers stops paying the monthly service, which means their high ranking will also vanish.
I was very surprised to see a link to rivercityjewelers.com at the bottom of this page. I was shocked to find this waiting for me: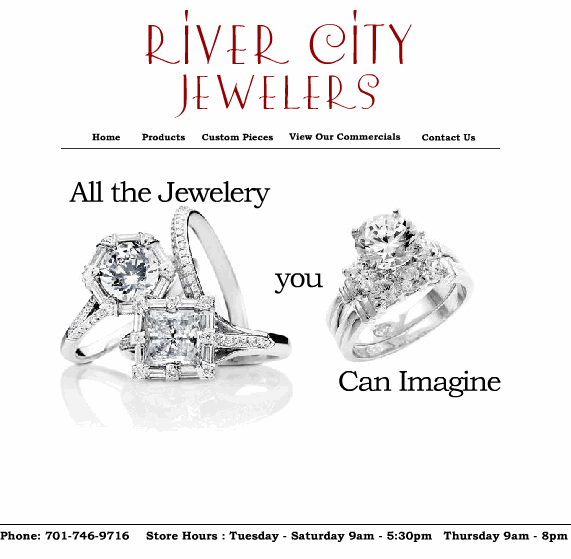 The website animation you see above is a 100% Flash website. I went back to look for this domain name in the Google SERP and eventually found it on page 5. It's been so long since I've seen a 100% Flash website that I didn't even remember that Google included the "[Flash]" designator in the SERP as you see here:

It's no wonder that Google didn't bother to show this website on the first few results pages. When was the last time you looked past page 2? It's also no wonder why River City Jewelers bought into the YellowBook template website; that's certainly much easier than building a website to correctly replace their old Flash site.
Because this website is a bit of a letdown to review this week, I decided to take a look at Signature Jewelers real quick...
Signature Jewelers
Their website is located at: http://www.signaturejewelersegf.com/
This is what it looked like when I visited: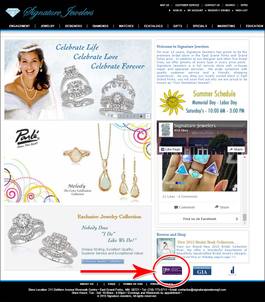 (click to enlarge)
Notice the purple logo in the above screen grab that I've circled and pointed to. I was a bit surprised to see that logo, well, because I created that for IJO back in 2003 when they were my client. In fact, that wasn't even the real logo for IJO at the time; that was a capture from the website I designed for IJO. They have since changed their logo and changed their website, yet that throwback logo is still here.
I started browsing around the Signature website and immediately recognized it as yet another turnkey template website for jewelers. Take a look at this screen capture: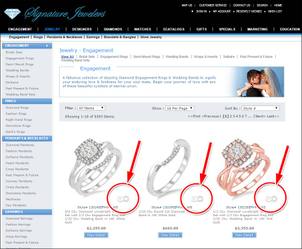 (click to enlarge)
This time, I've pointed to the Ashi Diamonds logo on the three rings shown above. Ashi Diamonds provides template websites populated with their own inventory. Technically, it's the company Ashi Avalon that sets up these websites. They make the process easy to sign up for and they manage everything for you.
The reason that the old IJO logo is there is simply because Ashi Avalon doesn't update these websites, or their designs at all. Obviously, no one else would ever recognize that IJO logo, but for me it's a tell tale sign that this website is unsupported, and Signature Jewelers doesn't really care about it.
With that I think I'll call it quits. I've said enough bad things for one day. My only closing comment is that, if anyone is looking to open an independent retail jewelry store, I think there's a good potential to usurp clients from the existing retailers in the Grand Fork area.
I'll see you next week...
FTC Notice: I randomly choose this website and won't be telling the retailer jeweler that I'm doing a review. Unless someone else tells them, they will only find out about this review if they examine their Google Analytics and Google Webmaster Tools. I'm not doing this to solicit business from them, but rather as an educational exercise for everyone. This review is completely impartial and all my comments are listed in the order that I discovered them.