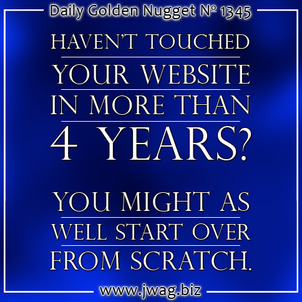 In this edition of the weekly website review, I'm venturing to Freeport, NY to look for a jeweler. My search begins in Google with the phrase "jewelers freeport new york." Here's a snapshot of the search results I saw:

Ut, oh... DNS Issues
Vincente Jewelers appears first in the local pack and in the organic search, so I'll pick them. Their domain name is http://www.vincentejewelers.com/. Sadly, at the time of this writing, it didn't work and I saw this error message in my browser: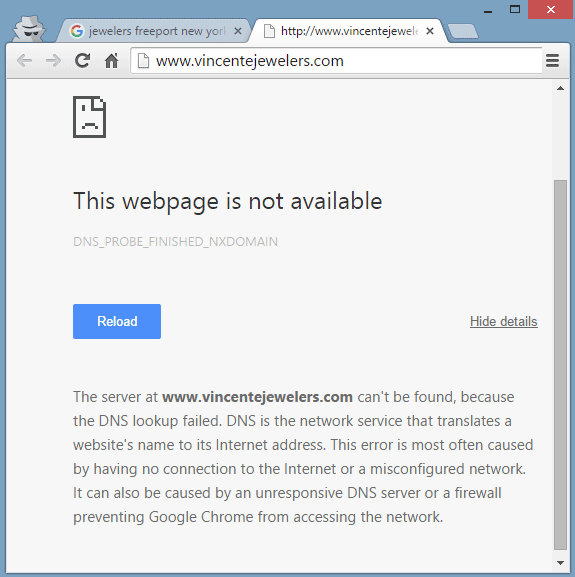 If I were a normal customer, I would go back to the search results and look at the next option, but something about this error didn't make sense to me. I know that Google is pretty quick with removing websites from the SERP if they are deactivated. The above error indicates a problem with the DNS, not with the website, so I decided to look a little deeper.
The answer surprised me... At the time of this writing the "www.vincentejewelers.com" version of the website was not reachable, but the "vincentejewelers.com" was. Every domain name is supposed to have 2 or more DNS servers that translate between a humanly readable domain name and the IP address numbers that computers use to talk to one another. This type of problem occurs when one of the
DNS servers is malfunctioning
.
You can pay a 3rd party service to monitor your DNS servers and immediately alert you if they are down, or if you don't have the need for immediate notification, you can just watch for the daily emails from your Google Search Console account. Google is pretty good at notifying you when they detect problems with your DNS, you just need to have your Search Console account activated.
Home Page
I was able to continue with this review by going to http://vincentejewelers.com. This is what the home page looked like when I visited: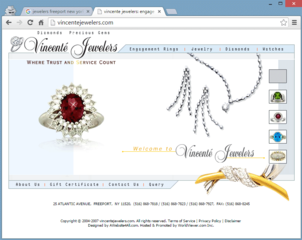 (click to enlarge)
The first thing I noticed is how small the website is, the second is that it is partially in Flash. I then couldn't help but notice that the copyright at the bottom says "2004-2007." If I were a real customer, I'd bolt away from this site right now, not necessarily because of the Flash elements, but because it's been 8 years since they updated their website. Eight Years!
I can only assume that the reason this jeweler appeared first in the SERP was simply because they are the only jeweler in Freeport, NY.
Product Catalog
I ventured into their Jewelry Page to see what an 8 year old product catalog would look like. Of the 14 pages in their catalog, only 4 of them had products. The rest looked like this: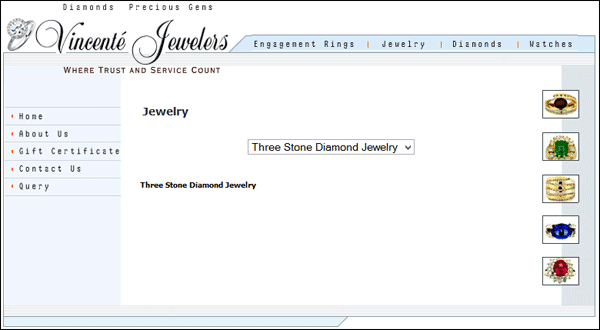 I'll take this opportunity to say that it doesn't matter if your site is 8 years old or a day old, your product catalog should only show pages or categories that have products.
SEO
I'd just like to quickly point out that every page of their website has this same page title:
"vincente jewelers: engagement rings and diamond and gold jewelery in freeport, long island, new york"
Search engine optimization in 2007 was more like black magic or at least black hat SEO than the widely accepted user centric practices of today. Their page title might have worked back then, but I have no way of knowing. What surprises me most is the misspelling of the word "jewelry" as "jewelery," and that that error has been there for 8 years.
I also find it poor practice to have the page titles in all lowercase like that. The proper names should be capitalized.
Footer
I also noticed that the footer on their home page includes their address and phone numbers, but that footer is missing on all their other pages. On the other hand, I guess that's okay because it looks like they never added information to their Terms of Service page, their Privacy Policy page, and their Disclaimer page. All three pages are blank like you see here: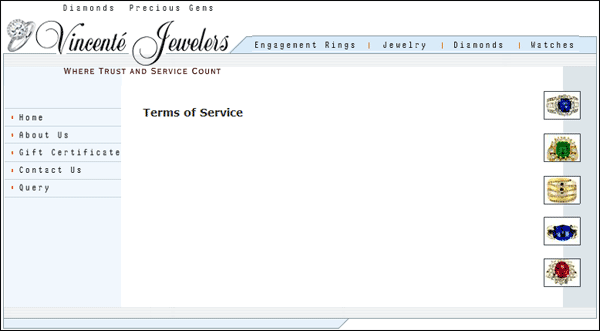 These "overhead pages" often do go overlooked during a website setup. They are often the last thing that anyone thinks about, yet they are among the first pages a new customer will look at to evaluate your trustworthiness as an online store.
When it comes time to write your Terms of Service and Privacy Policy, you should ask your local Chamber of Commerce for help or one of the other associations that offer such guidance. JVC and BBB should be able to provide sample verbiage for you.
Start Over
There's not much more I can say about this website, other than to start over from scratch.
Until next time...
FTC Notice: I randomly choose this website and won't be telling the retailer jeweler that I'm doing a review. Unless someone else tells them, they will only find out about this review if they examine their Google Analytics and Google Webmaster Tools. I'm not doing this to solicit business from them, but rather as an educational exercise for everyone. This review is completely impartial and all my comments are listed in the order that I discovered them.