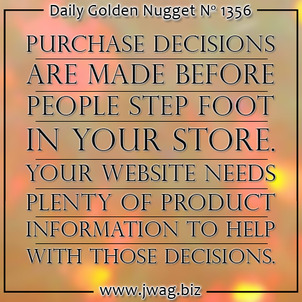 This is Part 7 of a multi-day Daily Golden Nugget series packed with tactics to help you in your 2015 holiday marketing. The series started with the
overview of 2015 holiday marketing strategies
and has continued since.
In this edition, I'll explain ways you can plan your product content to correspond to the holiday ads you have this year.
It Starts With Product Content
A lot of jewelers I've worked with have chosen products for their ads based on current inventory, special offers provided by manufacturers, or based on what they thought they could sell when someone walked into the store. However, buying patterns have changed because of the power of the internet and people are making their purchase decisions long before ever stepping foot in a store.
Online product information gives them the power to make those decisions, but that product information doesn't get there by itself; it takes a lot of planning to publish that information to a website.
Instead of simply shooting product photos for your ads and your website, you need to have other online information that gives customers all the facts and all the romanticism of your jewelry.
Product Catalogs
Retail stores who spend the time to add a lot of product content online might start to realize that their website visitor duration is increasing as their in-store shopper duration is decreasing. As the number of items in your product catalog increases, you should also see the number of website visitors increasing.
At minimum, every product shown in one of your ads should be in your online catalog, and easy to find. It would also behoove you to add all related items to the catalog so customers can see the different available options that there are. Do you offer the same pendant style with the options for different birthstones? Prevent customer guesswork; just show them all the similar options.
Your product catalog should always include the physical characteristics of your jewelry e.g. the metal type, carat weight, gemstone types and qualities, etc.. in addition to a romanticized description.
Product Reviews and Blogs
In addition to the product information in the online catalog, every item used in your paid ads should also have some other type of online content that people can read or look at. This could be an extra photo gallery, or a product review written by a customer, or a blog post telling a story of the jewelry.
Getting jewelry product reviews from customers has proven to be very challenging for many jewelers. Although many online catalogs include the ability to provide user feedback as reviews and ratings, few jewelers ever attract this type of website-to-customer engagement.
Instead of waiting for customers to write reviews, you could request the assistance of one of your employees. Have one of your employees document their first impressions of the jewelry when you first receive it in the store. Ask them to unbox the new inventory and voice record their first impressions. Those voice recordings can be used to create an editorial or product review that you then publish in your blog.
Conclusions
You have to support your ads with online content for every product you show in your ads. Those product need to be in your online catalog and written about in either review or some type of editorial content.
Think of your ads as the first moment of attraction that begins a long relationship. That relationship can only grow deeper if one person finds out a lot about the other. Your website must provide that information.