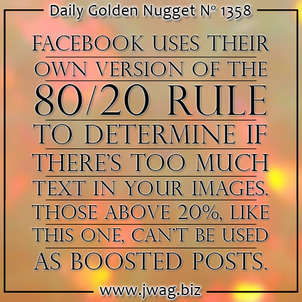 This is Part 9 of my annual special Daily Golden Nugget "Holiday Run-Up" series packed with tactics to help you during November and December this year. I started this series with an overview of the
marketing strategies
that have worked over the last 12 months and have been expanding on each idea every day since.
Today I'm continuing the with Facebook's image policies and boosted post restrictions.
Facebook Image Policies
Before posting anything to Facebook you need to make sure to comply with their image policies. They don't allow images that contain hate speech, self-harm, spam, or anything sexually suggestive. Visit
this page
for their full list of image don'ts.
You can post anything on Facebook as long as you don't break their rules. They also can't police all their content and have to rely on users to complain about images that do violate their policies. Don't toe the line here, because they will shut down your page if someone complains about a single image, and they will continue to block your page until you have deleted the offending image and click a button attesting that you've removed all offensive material.
Let me reiterate that Facebook won't specifically complain about your content; they are relying on your own customers to keep you honest and report when you've posted something they feel is offensive.
That said, although you can post any type of image to your Business Page, there are restrictions on the types of images you can boost. Facebook has made it more difficult for anything you post to reach your audience unless you pay at least $1 to boost every qualified post. I first mentioned this
pay-to-play
in August 2014, and it's become an even bigger requirement since.
Facebook's 80/20 Image Rule
It seems like there's always some type of 80/20 rule that applies in business. Facebook has set an 80/20 rule for images that you want to boost or use as ads. Specifically, you're not allowed to have more than 20% of the image covered by your logo or text. However, they don't measure the exact text coverage; they use a broad testing technique that's quite annoying.
Here's the sample image I want to upload to Facebook today: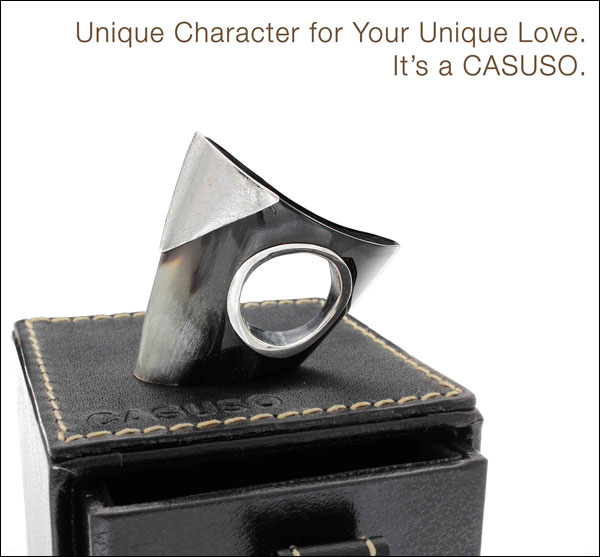 At first glance you would expect that the text coverage area is far less than 20% in that image, however you can't make guesses here; you need to test all the images before you upload them using their
image Grid Tool
that you can find
here
.
Using the Facebook Grid Tool I was able to mark up that image like this: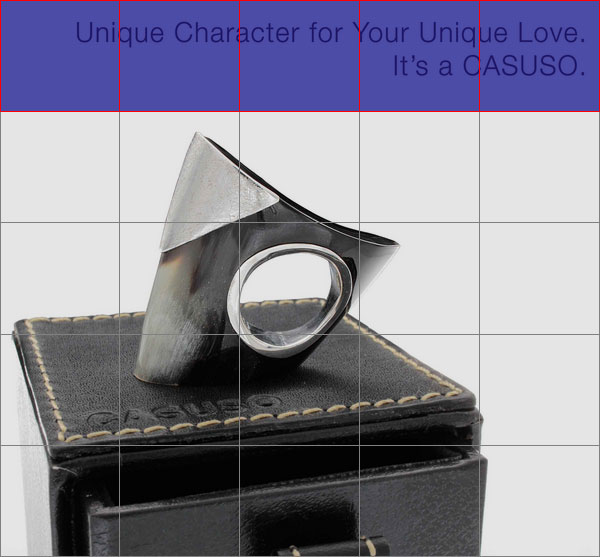 Facebook counts the boxes you select and determines the text area coverage. In this case, they say I have 20% coverage. I thought about adding the official Casuso logo to the bottom right corner, but obviously that would have put me over the 20% limit. You logo is also considered as part of the text coverage.
Based on this test, I can safely upload this to Facebook and use it for either an ad or a boosted post.
At times, you might want to post images to Facebook that are extremely dense with text, things like a testimonial or an inspirational message. It's okay that those types of images will never pass their grid test because you probably won't want to boost them anyway.
On the other hand, any photo you post that helps to further your brand or show product might be a candidate for turning into an ad or boosting with at least $1 to further the reach. For this reason, you should always double check your images with the Grid Tool before uploading them.
Facebook often checks the organic reach of your posts and they provide suggestions for posts to boost based on how much organic activity they have. You don't want to be in a situation where a photo is going organically viral, but you can't boost it for further reach because it violates any of their image policies.
In tomorrow's continuation, I'll show you the steps to upload the above image and boost the post to the target audiences we create
previously
.