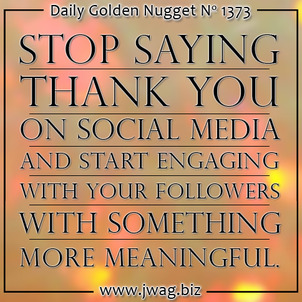 Here's a question that came in recently that I'll answer in this edition of the Daily Golden Nugget:
When I get a new follower on social media, should I thank them for the follow, or the Like - and if so, how do I do that without looking desperate, and move them closer to an in-store conversion or visit.
Should I be sending them to my website? It feels like that is sending them away, not towards us.
Thanks!
-- Twisted on Twitter
This is a question that I've struggled with myself. There are several blogs and strategies for sale that say you should thank all your new Twitter followers, thank every person who retweets your work, and thank everyone for liking or commenting on your Facebook posts. There's also an equal number of blogs and paid classes that will tell you not to use that strategy.
So what's the right way?
There are several automated tools available to tweet thank you messages to anyone who retweets your posts, and other tools that send direct messages to new Twitter followers. The idea behind them is that you should be nice to people who retweet and follow you... so why not send them an automated quick message?
Taking Short Cuts
One of the biggest complaints I hear every day is the amount of time it takes to manage your online identity, website, and social media. Product photography, managing search engine optimization, content building, and social media engagement each take a tremendous amount of time to do it right. Taking short cuts always leads to undesirable results.
Photography short cuts invariably lead to poor photography and lack of sales.
Most search engine optimization short cuts usually lead to some type of Google search penalty.
Short cuts in content building often times results in poorly written content that no one in their right mind would want to read.
Lastly, short cuts in social media tend to make you look like a robot without social skills and who is only after a quick sale.
I tried using automated Twitter services some time in 2010 but I didn't like how it made me look. I felt like I was sending spam to people, even though it was just a quick message saying "Thank you for the follow; let me know if you have a question about my blog http://jwag.biz."
Timing is Everything
For the record, I created a Hootsuite schedule that is used to auto-post these Daily Golden Nuggets every day. That schedule was carefully thought out to coordinate with my personal schedule. The hashtags used always attract new Twitter users, and I do attract new followers every day.
Similarly, my posts to LinkedIn, Facebook, and Google+ are also coordinated to match my potential availability and when my readers are online.
The goal with all this timing is to provide me with the best chance to be authentically social when someone likes, comments on, re-shares, or retweets my work. My smartphone sends me a push notification for each engagement. Swiping my finger across the push notification brings me right inside the social media app so I can see and reply. While this gives the appearance that I'm always online and available to comment, the truth is that I've organized it that way.
Be Creative, Be Social
I do have a minimum level of engagement on Twitter and Facebook.
I usually favorite the retweets done by real Twitter users. Twitter has a lot of automated spammy robot accounts, and I don't want to favorite any retweets by them. No need to encourage them. Simply favoriting a retweet is akin to thanking them for doing it. I also look at the bio of every Twitter user who retweets my posts. A majority of the time, I will follow those people. I don't follow accounts that promote get-rich-quick schemes, or magic social media tactics which use automated methods.
My minimum engagement on Facebook is to like all the comments made on my posts. This tells your followers that you are paying attention to them and you appreciate their comments. I reply when directly asked a question, or if I want to thank them for something specific, or make an extended remark based on my initial post.
Extending beyond the minimal level of engagement does require more time, but it also brings more attention, respect, and eventually some sales.
Here are some ideas you can use instead of simply thanking them for their comment or retweet:
Think about their comment and reply with some additional information that was left out of the post, or ask them a question that will keep the conversation going.

Take a little extra time to review their bio or profile and reply on a personal level.

Instead of replying to their comment, you could review what they recently shared on social, and comment or share their own content.
Don't rush to include links to your website in any of your social replies. Sharing a link will seem spammy unless it makes sense to share the link to more information.
No Thanks!
My opinion is that you should not use automated thank you messages and links to your website. Instead, use a personal approach to build a rapport with your social followers. Used correctly, that rapport will eventually lead to increased business.