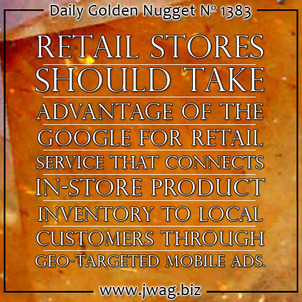 Did you know that 61% of smartphone users are more likely to buy from mobile sites and apps that offer some type of customized information for their location? That statistic came from the Consumers in the Micro-Moment study conducted in August 2015 by Google and Ipsos. The full details of that study are
here
.
Of course, you might not be ready to sell online, and that's okay. There are plenty of times when the modern consumer would rather buy in-person than from a website. However, those modern consumers won't be able to find your website unless you have the products they are looking for.
There's a lot of underlying technology that Google uses to decipher your store location and associate it with your online product catalog. That location information is surfaced in Google search results to help appropriately connect local businesses to mobile users. The success or failure of this feature all depends on how much effort you put into your online product catalog and your local search engine optimization.
Accurate Local Information
Consumers who are on-the-go need want to see detailed product photos and written descriptions, while seamlessly being told how easy it is to get to your store, and how late you will be open. In fact, current store hours are a huge topic of concern for Google in their search results.
Today, November 11th, is Veterans' Day in the U.S., also known as Armistice Day in Europe and Remembrance Day in Canada. Do a search for any local business today and you're sure to see a special warning that the hours might be different. Here's an example showing my local BestBuy location: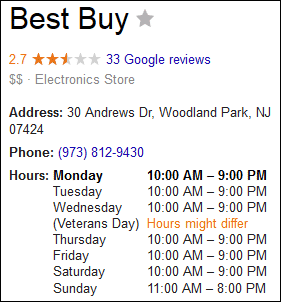 Notice how the store hours say "(Veterans Day) Hours might differ." In the past, Google relied on stores to update their hours manually, but few ever do, so Google recently added these extra messages to warn consumers of the potential store closings on special holidays.
This store hours example is especially easy to point out today, but this is also a feature you could incorporate into your website. Imagine having your current store hours appearing on every product detail page right alongside the product details. Website programming is available today that could show a message like this:
"Our store is about 5 miles from you, and we're open until 7pm tonight. Stop in and see this item in person today."
Location based programming like that is easy for a mobile website, but you could never achieve this type of feature unless you manage your own inventory on your own website.
Pay To Play Locally
Of course, no matter how much effort you put into the SEO of your website, it might not appear in organic search results as expected. A few years ago, Google had a way for retailers to upload their product inventory through something called Google Base, which then became Google Merchant Center. Those products would them appear in AdWords ads. That whole system was clunky and provided poor results; thankfully it's been completely reengineered now...
In early 2014, Google announced their reformulated efforts to help local businesses connect their retail store product inventory to local searches. The initiative was called Google Shopping, but today it has morphed into a larger service called
Google for Retail
. Within this service, you--as a retail store--can import your website product inventory, create product ads to promote your local inventory, and eventually qualify as a Trusted Store.
You can also upload your inventory directly into the new Google Merchant Center just like years ago with Google Base, but there's no sense in doing double work if you already have your in-stock inventory on your website.
All this inventory management leads to the creation of Google Local Inventory Ads. Using geo targeting, Google can show your in-stock inventory to people searching on their smartphones. Because Google is pretty smart, the ads can even include the distance between the user and the retail store location.
When using Google for Retail, you don't have to worry about your local SEO settings, it all comes down to what you spend to appear in the results. This system is similar to Google AdWords, but right now it's a standalone product.
Bottom Line
Managing your online product catalog isn't easy. Many times it might even seem like duplicate work to manage your online inventory and your in-store product management system. If possible, try to connect your in-store system to your website so you only enter your information once. You can then connect your website to Google for Retail to get your product ads deployed.
Customers want fast access to product inventory that's immediately available in their local area, so do whatever it takes to provide it and you'll have a new breed of happy modern customers.