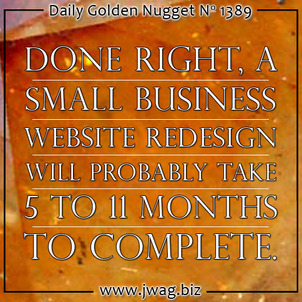 Welcome to #ThrowbackThursday! Today I'm jumping back to a conversation about the
troubles encountered when redesigning a website
that I first covered in September 2011.
The process of redesigning a website can be broken into several different stages, including, but not limited to:
Revaluation of website goals

Usability study

Design and framework construction

Content transfer

Content reevaluation

Redirecting old URLs to new URLs

Transferring SEO settings
Here's a quick breakdown of each of those 7 points.
Usability Study
You should
never fall in love with your own website design
, because your own tastes and ideas are often very different than those of your customers. As I explained in yesterday's Nugget, you should
learn from your current website and continually improve it
. Much of that process includes usability.
There are many ways to perform usability studies, including heatmapping, scrollmapping, and video recording your visitor movements. Ultimately, the success of every method depends on the amount of traffic you have to your website. As with any statistical study, the more measurements you take (website visitors) the more likely you are to arrive at quality results. Most independent retail jewelry websites receive fewer than 100 visitors per day. With visitor counts that low it will take months before enough data is collected to determine usability study results.
In other words, you might not get results from your own usability study for quite a long time. It's better to run these studies continually so you have data available the next time you redesign your website.
Design and Framework Construction
The new design of your website shouldn't be something you just dream up overnight. You should carefully construct it with the guidance of the usability findings. You also need to realize that the design, or look, of your website has nothing to do with the underlying technology that makes it run. That underlying technology, often called a framework or a content management system (CMS), can be anything you and your programmer agree upon. The only requirement is that it meets your needs and can manage your growth.
The time needed to accomplish this stage of the redesign process usually depends on the number of people providing input and how deeply you decide to analyze your captured data. It could take 30 days, or it could take up to 90 days.
Content Transfer
Once the design and framework is in place, you'll be able to transfer your content. If you're upgrading to a new version of your CMS then it should be an easy process to transfer all the databases and existing images. This is the easiest way to transfer your content, and it might only take a few hours to accomplish.
If transferring isn't an option, then the next attempt should be to try an automated export from the old website and an import into the new website. Your programmer will probably have to write some special code to make the export and import processes work. This might take a few days of work depending on how much information needs to be transferred.
The worst case scenario is if you need to do a manual content transfer process. This process literally requires someone to highlight and copy all the text on a page of the old website and paste it into the CMS of the new website. This can take hours of work and is quite tedious.
For this step, you're looking at between 3 to 100 hours of work depending on the size of your website and which of the above three methods you use.
Content Reevaluation
When was the last time you read your own website
? That was the topic of one of my recent Nuggets. Although you should not wait until a redesign, it certainly is a good time for you to reevaluate what your website says. You might want to pay a qualified copy writer to improve the wording on your site, but you have to be directly involved with this process. You can't expect your website designer or your copy writer to understand every aspect of your business.
The content reevaluation will take as long as it takes for you to work through it. You should estimate at least 90 minutes per page, e.g. a 10 page website will take 15 hours of your time. I suggest just working through 1 page a day until the process is complete.
Redirecting old URLs to new URLs
Once all the content is transferred and rewritten your website programmer can turn to the tedious task of making sure all the old pages of your website structure match the new website structure. This should be easy if you are upgrading your CMS, but it's far more difficult if you are moving to a different technology platform.
When moving to a different platform you first need to create a list of all the pages on the old site. There are plenty of tools to help you create that list, and there might even be a built-in "sitemap.xml" export feature in your old CMS that will help. However, every automated tool I've ever used seems to find pages that were not visible on the public site while also missing a few of the links easily found on the site. I've always needed a person to go through and double check the automatically found pages. On average it takes about 2 minutes to find and double check every page of a site, which means about 7 hours of work if your website has about 200 pages.
With all the pages found you then need to "map them" to the website structure created by your new CMS and design. This is where you match up the old URLs to the new URLs. Every time you change your website design and structure you run the risk of damaging your website ranking. You can minimize that damage if you carefully account for, and map every old URL to the appropriate place on your new site.
Ultimately, your website programmer will need to set up a 301 redirect file that will manage these mapped files. While you could rely on your programmer to do this mapping for you, I also recommend that you also have one of your employees double check their work and provide a sanity check.
As an example, you might have had Bulova watches on your old website, but not on your new one if you don't carry them anymore. You could choose to 301 redirect that old Bulova page to your home page, or you could direct it to the general watch category of your new product catalog. While the answer here might seem simple for you, your programmer won't necessarily understand which is better for your business.
The mapping process will probably take another 2 minutes per page, which is another 7 hours for a 200 page website.
Transferring SEO Settings
This is the last step before your new website can go live, and this step will also help prevent critical damage to your website ranking.
First of all, I have to stress the importance of NOT changing your page titles between the old site and the new site, at least not during the redesign. Changing the title of any page has a direct impact on your ranking. The upgrade in your design and framework will cause some type of fluctuation in your ranking, which will be a lot worse if you change all your page titles at the same time.
To minimize your ranking damages, you need to cross reference the 301 URL mapping list that your programmer made and then copy all the page titles, meta descriptions, meta keywords from each of the old pages to each corresponding new page. The goal here is to copy all potential SEO settings from the old site to the new site, even the meta keywords. You might even want to go the extra step and make sure the H1 tag on each of the new pages matches the H1 from the old pages.
Some spidering programs could make the process easier for you than the tedious manual method. I use Screaming Frog SEO Spider to help build a file of SEO settings that can be imported into a CMS, but it still requires a lot of manual double checking.
Don't launch your website until you've completely worked through the 301 page mapping and the SEO settings transfer; otherwise your website ranking will take a huge hit. I can't stress how important these two steps are for small businesses that struggle to achieve their website ranking in the first place.
Bottom line...
Website redesign is a frightening process. Because a lot of the work happens behind the scenes, oftentimes a business might not realize what last steps are needed to protect their best interests. Are you trying to rush your website redesign by micromanaging every step? If you've hired a professional website team to build your website then you should just let them do their job while you concentrate on your store.