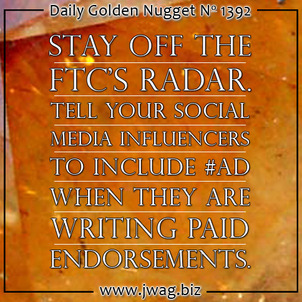 The
SocialPro Conference
was held on November 18-19th in Las Vegas. It began with a keynote Q&A presentation between Mary Engle, the FTC's Associate Director for Advertising Practices, and Danny Sullivan, founding editor of MarketingLand.
As I read through the transcripts of the entire Q&A
here
, I was reminded of the JCK Talks 2015
Power of Blogging
seminar and my write-up about
disclosure of financial compensation
from June of this year. Both of those previous Nuggets explain that bloggers are responsible for telling their readers when they are being paid to write about a topic.
Here are two specific points from the Social Pro Conference Q&A that I'd like to expand upon...
Employees as Bloggers
If your employee is writing a blog post for their employer's website, there's no need for the employee to disclose that they work for that brand. It's obvious that any content found on a website is used in conjunction with selling associated products.
However, if the employee posts a product blog on their personal website, then disclosure is needed. The FTC requires that the blog itself contain information that the employee works for the brand. Furthermore, the FTC specifically states that you can't simply include your employment information on your author bio page, but rather, it must be in the blog.
Many websites have author bio pages, like mine
here
, which explain who the blog writers are. The FTC realizes that these pages are seldom read by consumers and that disclosures posted to them have a limited reach.
Customer Contests
Some jewelers hold contests in hopes of boosting immediate business and some use
contests as the first step of a sales funnel
. However you might use contests, there are specific FTC disclosure rules you need to follow based on the value of the prize being awarded.
According to the Q&A, there's a difference between a material prize or payment and a small value prize or compensation. A prize worth $5 was cited during the presentation as a non-material award, and that you probably would not need to disclose any relationship or endorsement.
There are also obvious times when you are running a promotion that requires social media engagement as the entry. Although, what might seem obvious for some people might not be so obvious for others, and for me it seems like the level of social viral engagement is an important factor in measuring obviousness.
Certainly, some companies are able to achieve social viral status more effectively than others. Large businesses might hold press conferences and gain local new coverage enough to qualify their contest as obvious for their area. Nationally recognized brands might run TV ads providing instructions to enter the contest. In these cases, as long as the prize is non material, the person entering the contest does not have to disclose that they are participating in the contest.
On the other hand, if the prize is for, say, a $5000 engagement ring and a dream wedding package (including the venue, limo, and wedding dress) valued at $20,000, then all the contestants must somehow disclose their social activity as an "ad." Usually a contest promotion requires the use of a single hashtag, for example, your directions might say "use the hashtag #dreamwedding" in your tweet. You could simply change those instructions to say "use the hashtags #dreamwedding and #ad" in your tweet.
Contestants would potentially tweet like this:
I want to win my #dreamwedding at @perosijewelers #ad
The use of the hashtag #ad satisfies FTC guidelines.
Bottom Line of FTC Disclosure Requirements
The FTC doesn't have the manpower to monitor all social media campaigns and local ads. If you think your competitor is doing something wrong, then you should call their complaint line at 1-877-FTC-HELP. They get a lot of leads from local competitors. It's always worth giving them a call, but they admit that don't have the resources to follow up on issues that have a small scope of affected people. They do send cease-and-desist letters to offending parties when needed.
Mary Engle did state a few times that her Q&A should not be considered legal advice and that you should always seek legal counsel.